Rasowy celtic-punk z... Polski.
2013-03-19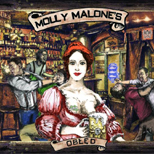 Molly Malone's to folk-punkowy zespół z Giżycka na Mazurach doskonale łączący elementy folku celtyckiego z punk rockiem.
Idea zespołu narodziła się w głowach Jarka "Kwiatka" Kwiatkowskiego oraz Bartka "Konia" Biwejnisa, którzy po doświadczeniach w punk rockowych formacjach oraz szantowych kapelach postanowili irlandzkie melodie grane na akordeonie i skrzypcach wkomponować w punk rockowe utwory.  Zespół zaczął koncertować od stycznia 2010 roku i od początku doskonale sprawdzał się na koncertach w pubach i tawernach jak i na dużych scenach plenerowych festiwali.  Zwycięstwo w Konkursie Trzy Tawerny 2010 podczas IV Edycji Festiwalu Latający Holender Ursus 2010, a także nagroda publiczności na 7 Festiwalu Rock Szanty w Serwach w sierpniu 2010 roku czy II Edycji Festiwalu Muzyczne Perły 2010 w Tawernie Korsarz są tylko potwierdzeniem tych słów. Pozytywne przyjęcie Molly Malone's w środowisku folku morskiego jako mazurskiego zespołu grającego "punk rockowe szanty" wynikało nie tylko z braku sceny celtic punkowej w Polsce ale także z doskonałej zabawy jaką zespół serwował na każdym koncercie.  Molly Malone's okazali się być jedynym zespołem w Polsce grającym na profesjonalnym poziomie ten tak popularny na świecie gatunek muzyczny, naturalnym więc było, że pomimo krótkiego stażu scenicznego supportowali na koncertach w Polsce takie gwiazdy gatunku jak kanadyjskie The Dreadnoughts czy The Real McKenzies oraz Street Dogs z USA .

Jesienią 2012 roku po niespełna trzech latach działalności w Olsztyńskim Studio X Molly Malone's rozpoczyna rejestrację swojej pierwszej długiej płyty. Produkcja nagrań zostaje zakończona w grudniu 2012 roku....
Biorąc pod uwagę korzenie i zawartość muzyczną albumu jedyną słuszną a zarazem możliwą datą ukazania się płyty jest 17 marca czyli rocznica śmierci Św. Patryka, jedna z ważniejszych dat dla kultury i historii irlandzkiej.
Album zawiera 11 utworów rasowego celtic punka z tekstami po Polsku o jasnych i ciemnych stronach życia. Energiczne utwory w paru miejscach przerywane są wolnymi piosenkami co doskonale znane jest z kanonu płyt folk punkowych. Punkowe brzmienie łagodzi gitara akustyczna a akordeon i skrzypce przypominają, że inspiracją dla zespołu jest folk celtycki. Smaczku dodają melodie zagrane na mandolinie i fletach irlandzkich czyli tin i low whistle, które gościnnie wgrał Marcin Rumiński z zespołu Shannon. Na płycie mamy więc wszystko czego oczekujemy po dobrym celtic punkowym albumie. Szybkie tempa, chóralne zaśpiewy, wpadające w ucho melodie i zapach świeżego piwa jaki czujemy w nozdrzach po wysłuchaniu albumu....
Zamów płytę ---> CD MOLLY MALONE'S - Obłęd