ROGER MIRET & THE DISASTERS + CIVET + COWBOY PROSTITUTES + THE END
2011-04-02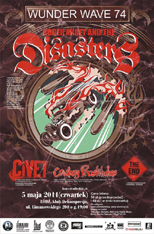 WUNDER WAVE 74
wystąpią:

ROGER MIRET & THE DISASTERS - w ramach trasy promującej najnowszy (trzeci w dyskografii) album "Gotta Get Up Now" po raz piewszy przyjedzie do Polski ze swym nowym zespołem Roger Miret - wokalista i lider pionierów nowojorskiej sceny hardcore Agnostic Front. THE DISASTERS prezentuje bardziej street punkowe wcielenie Mireta gdzie pobrzmiewają echa: The Clash, Rancid czy Cock Sparrer.

THE CIVET to najgorętszy żeński zespół punk rockowy jaki pojawił się w Los Angeles od czasów Joan Jett i The Runaways. Jak podkreśla gitarzystka i wokalistka Liza Graves: Naszym celem jest wydostanie się stąd i udowodnienie wszystkim niedowiarkom , że żeński zespół potrafi grać muzykę i robić to dobrze. Dziewczyny zawitają ponownie do Łodzi (wystąpiły u nas w sierpniu minionego roku u boku The Adicts) aby promować najnowszy album: "Love and War" wydany przez Hellcat Records.

COWBOY PROSTITUTES pochodzą z Orebro (Szwecja) i prezentują dzikią mieszankę hard rocka , punka i rock'n'rolla. Ze Szwecji pochodzi wiele doskonałych kapel m.in.:Millencolin, 59 Times In Pain, No Fun At All, The Bones, Misconduct.Wkrótce do tego grona może dołączyć także Cowboy Prostitutes. Zespół będzie promował swój debiutancki album " Let Me Have Your Heart". Jeśli lubisz The Bones, TURBO AC's to ta kapela powinna przypaść Ci do gustu.


THE END Nowe odkrycie na punkowej scenie ze Śląska. Rozpoczęli wspólne granie całkiem niedawno bo we wrześniu 2009 roku mimo to energiczny, melodyjny hardcore punk w wykonaniu The End z damskim wokalem i tekstami po angielsku zdobył szybko uznanie wśród publiczności zarówno w Polsce jak i w Czechach. Jak na razie mają na swym koncie materiał demo. Wokalistkę Pauline "Paukę" co po niektórzy mogą kojarzyć z najnowszej płyty Bulbulators.

Termin: 5 maja 2011 (czwartek)

Miejsce: ŁÓDŹ klub Dekompresja, ul.Limanowskiego 200

Start: g.19:00
Bilety w cenie: 50 zł (przedsprzedaż) i 60 zł (w dniu koncertu)

Do nabycia: www.strefabiletow.pl, Sklep Ale Jazz, Boman, C.I.K. Studio Tatuażu "Sigil", Nervous Skate Shop, Sklep Blud.