REWIZJA - Tonąc w cieniu. Nowy album juz 19 czerwca!!
2010-06-10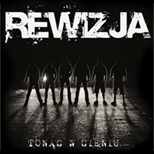 Niemal 4 lata kazała czekać na swój nowy album lubińska REWIZJA. Zespół zadebiutował we wrześniu 2006 roku krążkiem "Mity i legendy" (Jimmy Jazz Records) prezentując się w stylowym, punkowym repertuarze z jednej strony bazującym na brzmieniu polskich grup punk rockowych działających w latach 80-tych ub. wieku, a z drugiej nawiązującym do stylistyki streetpunk.
Dzięki debiutanckiej płycie, obecności na kilku składankach oraz płycie dołączonej do magazynu Garaż, REWIZJA zaistniała szerzej na scenie zdobywając grono wiernych fanów oczekujących kolejnych nagrań grupy.

Zmiany składu, jakie na przestrzeni ostatnich lat dokonały się w zespole nie wpłynęły w radykalny sposób na zmianę brzmienia choć nowy krążek odsłania bardziej szorstkie i mocniejsze – zwłaszcza w sferze tekstowej - oblicze grupy.
Zapewne nie wszystkim spodobają się ostre i nie przebierające w słowach teksty, ale punk rock nie jest od tego aby podobać się wszystkim, zwłaszcza jeśli inspiracje muzyków zdają się być bardzo bliskie klimatom powieści "Mechaniczna Pomarańcza" Anthony Burgess'a, która na równi z opartym na niej filmem Stanley'a Kubricka inspirowała całe pokolenia (nie tylko) punkowych muzyków.
"Tonąc w cieniu" już za sprawą okładki przywołuje wspomniane skojarzenia, a warstwa tekstowa płyty potęguje wrażenie, którego nie zacierają nawet łatwo wpadające w ucho kompozycje.

Nowy album REWIZJI już długo przed premierą zelektryzował fanów czekających na jego kompletną odsłonę i choć trudno liczyć aby krążek za sprawą tekstów szerzej zaistniał w rozgłośniach radiowych to z pewnością bez problemów zaistnieje szeroko w środowisku punkowym. Może nie wszyscy po jego przesłuchaniu podpiszą się pod wizją ciemnej, ponurej, a czasem wręcz wulgarnej rzeczywistości opisywanej przez zespół, ale z pewnością nie zapomną tego krążka i nie przejdą obok niego obojętnie bo to jeden z nielicznych, tak wymownych albumów na polskiej scenie nawiązujących do podobnych źródeł, jak te które legły u podstaw powstanie "Mechanicznej Pomarańczy".

Oficjalna premiera handlowa albumu w naszym sklepie 19 czerwca 2010 ale już teraz można zamawiać krążek, który - jak w przypadku wszystkich premier Jimmy Jazz Records - wysyłac będziemy natychmiast po otrzymaniu płyty z tłoczni.

Ze względu na ostre teksty promocja płyty prowadzona będzie głównie za sprawą mediów internetowych.
Pierwszym utworem singlowym promującym album jest "Anioł chuligana" dostępny w "Strefie radiowej" serwisu Jimmy Jazz Records (zainteresowanie rozgłośnie prosimy o kontakt w sprawie dostępu do panelu dla mediów).
"Anioł Chuligana" jest także do odsłuchania w naszym playerze (patrz zakładka RADIO) na stronie www.jimmyjazz.pl, a także na profilu ---> MySpace Jimmy Jazz.
Inne fragmenty plyty także na profilu MySpace ---> zespołu.

Zamów ---> REWIZJA - Tonąc w cieniu.