Punkowe archiwa na winylach... LIBERUM VETO i STAN OSKARŻENIA...
2016-01-08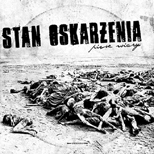 W ostatnim czasie wspólnym staraniem kilku wytworni niezależnych wydane zostały dwie pozycje, które z pewnością zainteresują fanów punkowych archiwów niedostępnych dotychczas na winylu. Obie pozycje obecne są już w naszym skalpie, a poniżej zamieszczamy krótkie informacje o nich:

STAN OSKARŻENIA
"Pięść wiary" to reedycja materiału wydanego pierwotnie przez Stan Oskarżenia na kasecie w 1993 roku. Wrocławska grupa działająca z przerwami od 1986 roku zapisała się na stałe w historii polskiego punk rocka za sprawą także tego wydawnictwa, na którym znajdujemy 10 numerów z melodyjnego punk rockiem charakterystycznym dla polskiej sceny lat 90-tych ub. stulecia.
Z myślą o wydawnictwie winylowym zespół przygotował nową okładkę. Krążek wydany został jedynie na czarnym winylu w nakładzie 300 egz. i jest wspólnym przedsięwzięciem BLACK WEDNESDAY RECORDS, ZIMA RECORDS, HEY JOE oraz NO PASARAN.

LIBERUM VETO
"Naćpany nudą" to drugi album punkowej formacji LIBERUM VETO pochodzacej z Głubczyc, który oryginalnie wydany został na kasecie magnetofonowej prawie 20 lat temu. Obecnie w wyniku współpracy trzech oficyn wydawniczych tytuł ten doczekał się reedycji w postaci krążka winylowego. Wydawcami płyty są: BLACK WEDNESDAY RECORDS, 83 RECORDS, POTATO /BIAŁORUŚ/ oraz NO PASARAN.
Album zawiera 10 utworów utrzymanych w stylu szybkiego, agresywny, ale nie pozbawionego melodii punk rocka i wydany został w nakładzie 300 egzemplarzy przy czym 200 wytłoczonych na czarnym, a 100 na niebieskim winylu.

Zamów:

---> LP LIBERUM VETO - "Naćpany nudą"

---> LP STAN OSKARŻENIA - "Pięść wiary"