Punk & Disorderly coraz bliżej...
2005-12-20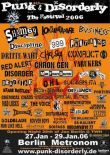 Wielkimi krokami zbliza się kolejna edycja Punk & Disorderly, która w tym roku po raz kolejnych sciągnie do Berlina rzesze fanów punk rocka. Trzydniowy festiwal odbędzie się w dniach 27-28-29 stycznia 2006 roku w klubie METRONOM (---> adres klubu i dojazd).
Organizatorzy zadbali o to aby impreza była atrakcyjna i zaspokoiła oczekiwania fanów róznych odmian punkowego grania. W tym roku nie zabraknie polskich akcentów. Po raz drugi w historii imprezy zaproszony został do udziału w niej zespół z Polki i po raz drugi to ... The Analogs, którzy będą mieli okazję pokazać się na scenie w doborowym towarzystwie.

Obok prezentujemy aktualny plakat imprezy, a ponizej zestaw wykonawców, którzy w ciągu festiwalowych dni pojawią się na scenie.
Piątek - 27.01.2006
- LOKALMATADORE
- DISCIPLINE
- THE PARTISANS
- 999
- RED ALERT
- CHRON GEN
- STOMPER 98
- GERM ATTACKS
- WHISKEY REBELS
- DISORDER
- TOXPACK
- DISTURBANCE
- DEFIANCE
- ULTIMO ASALTO
- MOPED LADS
Sobota - 28.01.2006
- BLITZ
- CONFLICT
- DEADLINE
- BIERPATRIOTEN (ostatni koncert)
- OHL
- BLAGGERS ITB
- BLOOD OR WHISKEY
- SPECIAL DUTIES
- THE PORTERS
- SOIFAS
- GOLDBLADE
- JUDASVILLE
- SONDASCHULE
- SIR WILLIAM HILLS
- BOWER BOYS
- MADLOCKS
Niedziela - 29.01.2006
- BUSINESS
- CHELSEA
- MARK FOGGO SKASTERS
- DRITTE WAHL
- ARGY BARGY
- THE VARUKERS
- EMSCHERKURVE 77
- THE VOICE
- THE NEGATIVES
- STAGE BOTTLES
- J´AI AURAIS VOULU
- THE ANALOGS
- SS-KALIERT
- URBAN REJECTS
Więcej informacji: info@mad-tourbooking.de