Punk Metal Meeting
2010-07-01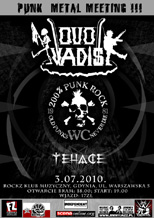 Punk Metal Meeting
Gdynia - Klub Muzyczny ROCKZ
03.07.2010.

W połowie drogi na Festiwal "Rock na Bagnie", w gdyńskim Klubie Rockz, 03. lipca (sobota) spotkają się dwa szczecińskie bandy:
- thrash/death metalowy Quo Vadis promujący swoją najnowszą płytę INFERNAL CHAOS i...
- punkowe WC

Punki z WC będą festiwalowy występ mieć już za sobą, Quo Vadis czekać będzie jeszcze ciernista droga do Strękowej Góry. Jednak to nie festiwale będą tematem sobotniego Meetingu. Ekstremalnie rozgrzany, aż do granic wrzenia thrash i 666% punk rock dla jednych lub najlepszy metalowy czad okraszony punkowymi songami dla drugich czyli jedyny w swoim rodzaju punkowo-metalowy Meeting, muzyka, która ma szansę pokonać kolejne podziały.
Po raz pierwszy na jednej scenie spotka się ramię w ramię punk i metal!
Skład koncertowy uzupełnia zespoł Tehace.
Zapraszamy do ROCKZ bo to trzeba koniecznie zobaczyć!!!