Punk Attitude.. dokumentalny film o punk rocku na podwójnym DVD.
2005-11-20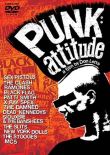 W ostatnim okresie pojawił się na DVD kolejny tytuł sięgający do historii myzyki punk.
We wrześniu 2005 ukazało sie dwupłytowe DVD z dokumentalno-muzycznym filmem "Punk Attitude" Don'a Letts'a zawierającym wspomnienie o takich wykonawcach jak New York Dolls, The Stooges, The Clash, Sex Pistols, Ramones, Black Flag, X-Ray Spex, The Damned, Dead Kennedys, Siouxsie & The Banshees, The Slits, MC5 i inni.
Film ukazuje początki i korzenie punkowej rewolty lat siedemdziesiątych XX wieku, a całość poza archiwalnymi zapiasmi zawiera także wywiady z Henry Rollinsem (Black Flag), Brendanem Mullenem (właściciel klubu The Masque), Paul Jones (The Clash), Jello Biafra (Dead Kennedys), Chryssie Hynde (The Pretenders) i wieloma innymi osobami ważnymi dla punk rocka w okresie jego poczatkowego rozwoju.
W filmie przedstawiono m.in. punkowe fanziny, wytwórnie płytowe, modę punk, wpływ punkowej estetyki na sztukę, poświecono część dokumentu kobietom w punk rocku, jednak oczywiście dominuje muzyka. Autor porównuje nawet ze sobą brytyjski i amerykański punk zastanawiając się także nad jego późniejszą ewolucją.
Film trwa 90 minut i wydany został przez firmę Capital Enetertainment.