Przedpremierowa sprzedaż - w niższej cenie - najnowszych tytułów Jimmy Jazz Records.
2007-04-03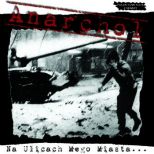 10 kwietnia do sklepów trafią dwie najnowsze premiery przygotowane przez Jimmy Jazz Records. Albumy ANARCHOLA "Na ulicach mego miasta" i THE HEADHUNTERS "Nie lubię radia" udostepniamy juz dzisiaj zainteresowanym w specjalnej cenie 20 zł., która obowiązywać będzie do momentu oficjalnej premiery wydawnictw w sklepach. Później obie pozycje dostępne będą w cenie takiej jak większośc wydawnictw katalogowych Jimmy Jazz czyli pięć zł. drożej.
POdobnie jak w przypadku wspomnianych tytułów proponujemy fanom ska zakup w specjalnej cenie reedycji albumu pułtuskiej Skarpety o tytule "Ulubieńcy bandytów". Materiał ten znany już jest z kasety wydanej w 2000 roku przez firnę Rock'n'roller. Od dzisiaj dostępny jest także na płycie CD.
Nie zmarnuj okazji!!! W sprzedaży przedpremierowej i w specjalnej cenie najbliższe premiery JIMMY JAZZ RECORDS!
- CD ANARCHOL "Na ulicach mego miasta" - 20 zł (cena obowiązuje do 10 kwietnia 2007)
---> tracklista + sample
ANARCHOL to polska kapela punk powstała w 1998 r. w Toronto w Kanadzie gdzie w latach 90-tych zespół zagrał wiele koncertów zdobywając sporą popularność nie tylko w polonijnym środowisku undergroundowym. W Polsce zaistniał za sprawą kasety "Na ulicach mego miasta", wydanej przed laty, zawierającej 19 utworów nagranych w małym, punkowym studiu Black Skorpion w Toronto. Materiał zarejestrowano metodą "na żywo, ale w studiu" tak, by jakością przypominał materiały zespołów alternatywnej polskiej sceny lat 80'tych, gdyż właśnie w takim klimacie zespół tworzył swoją muzykę. Gdyby spróbować porównać ją do dokonań innych kapel to - jak twierdzą sami muzycy - można by zaryzykować stwierdzenie, że jest to coś pomiędzy KRYZYSEM, wczesnym DEZERTEREM i XENNĄ.... Surowy, melodyjny i zaangażowany tekstowo punk doskonale przywołuje klimat twórczości polskich grup tego typu z lat 80-tych i stanowi dzisiaj jeden z nielicznych tytułów z polskim punkiem utrzymanych w podobnym klimacie. Z pewnością też jest jedynym obecnie wydawnictwem zawierającym dokonania polskiej kapeli punkowej działającej przed laty poza krajem. Dzisiaj, po raz pierwszy materiał ANARCHOLA dostępny jest na CD - w dużo obszerniejszej formie niż wspomniana kaseta, uzupełniony nagraniami koncertowymi i bonusami studyjnymi.

- CD HEADHUNTERS "Nie lubie radia" (Digi-pack) - 20 zł (cena obowiązująca do 10 kwietnia)
---> tracklista + sample
Zespół The Headhunters jest kontynuacją istniejącego wcześniej punk rockowego zespołu Dziki. Dziki sformowały się pod koniec 1991 roku w Oleśnicy i po nagraniu dwóch kaset demo w 1994 roku przestały istnieć. Zespół reaktywował się w 1999 roku, a w rok później wraz ze zmianą gitarzysty nastąpiła zmiana nazwy. Zatem rok 2000 to narodziny The Headhunters. W pierwszym składzie zespół zarejestrował swoją pierwszą kaseta demo. W lutym 2001 roku została zarejestrowana i wydana własnym sumptem koncertowa płyta "Live dla idei". W grudniu 2001 Headhunters po raz pierwszy weszli do studia, a w kwietniu 2002 ukazała się ich pierwsza studyjna płyta. Debiut nosił tytuł "Awantura" i także został wydany własnym sumptem.
W styczniu 2005 roku kapela rozpoczęła pracę nad kolejnym materiałem studyjnym czego efektem był album "Łowcy" wydany wspólnie przez zespół i wytwórnię Jimmy Jazz Records. Grupa powinna być już znana sporemu gronu słuchaczy za sprawą obecnego niegdyś w wielu rozgłośniach utworu "Jestem jaki jestem" oraz udziału w składance "Psycho Attack Over Poland" (Jimmy Jazz Records) i prezentując swoja wersję utworu "Chciałbym umrzeć jak James Dean" na albumie "Tribute To Partia". Repertuar grupy to przemyślany uliczny rock podlany punkiem i Oi! Surowy ale melodyjny co powoduje, że wiele utworów to potencjalne przeboje dla fanów ostrego grania. Ze względu na swoją różnorodność nowa płyta pt. "Nie lubię radia" z pewnością znajdzie odbiorców zarówno wśród fanów punk rocka jak i melodyjnego rockowego grania.

- SKARPETA "Ulubieńcy bandytów" (Digi-pack) - 20 zł (cena obowiązująca do 16 kwietnia)
---> tracklista + sample
Pierwszy materiał pułtuskiej SKARPETY wydany został w 2000 roku jedynie na kasecie i stanowił na polskim rynku niezależnym swoiste nowum, łącząc melodyjne ska z wpływami starego rock'n'rolla i rockabilly. Muzycy grupy znani są zresztą z rock'n'rollowych ciągot bowiem stanowili część także takich formacji jak KOMETY, ROBOTIX czy THE KOLT, który dzisiaj w przewadze tworzą właśnie byli muzycy SKARPETY. Producentem płyty "Ulubieńcy bandytów" jest Lesław z KOMET co zapewne stanowi dodatkową rekomendację dla wszystkich znających dokonania lidera Komet.Po raz pierwszy "Ulubieńcy bandytów" w wersji CD (Digipak) mają okazję dotrzeć zarówno do fanów samego – nieistniejącego już – zespołu jak i wspomnianych formacji, przypominając materiał, który mimo upływu czasu nie stracił na swojej atrakcyjności, a każdy kto ceni zarówno ska jak i bardziej rock'n'rollowe granie - z nie do końca poważnymi tekstami - zapewne sięgnie po ten album z przyjemnością.