Przedpremierowa sprzedaż płyt ZIGGIE PIGGIE i SKAMBOMAMBO.
2008-04-09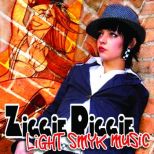 14 kwietnia oficjalną premierę będą miały dwa albumy, które najbardziej ucieszą fanów krajowego ska bowiem w takiej stylistyce najpewniej czują się formacje ZIGGIE PIGGIE i SKAMBOMAMBO. Dla obu zespołów wychodzące właśnie krążki to albumy debiutanckie, ale z pewnością oba zespoły są już doskonale kojarzone przez fanów, a nadchodzące wydawnictwa przez wielu oczekiwane są z niecierpliwością.... i słusznie.
ZIGGIE PIGGIE to zespół, który - jak nikt wcześniej na krajowym podwórku - doskonale łączy klimat starych jamajskich nagrań z współczesnym soundem, nawiązując w tekstach zarówno do tradycyjnej tematyki związanej z historią sceny ska i wątków klasycznie subkulturowych, bez problemów poruszając się także we współczesnych realiach. Grupa ma za sobą wiele koncertów nie tylko w Polsce, w doborowym towarzystwie wykonawców muzyki jamajskiej.
Płyta "Light Smyk Music" już dostępna W promocyjnej cenie przedpremierowej. (patrz niżej)
Liczny skład SKAMBOMAMBO z rozbudowaną sekcją dętą tworzy niepowtarzalną atmosferę i porywa publiczność do wspólnej zabawy, a egzotyczny wokalista Mario - pochodzący z Malty - dopełnia wyjątkowości całego widowiska.
"Made in Pol-Ska" to doskonały album dla fanów nastrojowego rocksteady i ognistych jamajskich rytmów, na którym zadbano o doskonałe muzyczne proporcje.
Płyta "Made in Pol-Ska" już dostępna W promocyjnej cenie przedpremierowej. (patrz niżej)
Oficjalna, handlowa premiera obu albumów będzie miała miejsce 14 kwietnia 2008. Do tego dnia obie płyty w naszym sklepie dostepne są w cenie specjalnej 20 zł. Od dnia premiery cena wraca do normalnego pułapu większości albumów z Jimmy Jazz Records (25 zł.).
Zamawiającym przypominamy o opłacie za przesyłkę i pobranie w wysokości 11 zł. (Przy zamówieniach powyżej 100 zł. zmawiający nie płaci za pocztę i pobranie, a jedynie za zamówione płyty, my pokrywamy koszty pocztowe).
ZAMÓW w specjalnej cenie:
---> ZIGGIE PIGGIE - Light Smyk Music
---> SKAMBOMAMBO - Made in Pol-Ska