Przedpremierowa sprzedaż albumów THE KOLT i ANTI DREAD w specjalnej cenie.
2007-05-07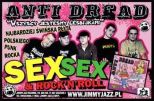 Już 14 maja kolejna premiera z JIMMY JAZZ. Nowy album THE KOLT "Odsłona II" przynosi jeszcze bardziej ognistą mieszanke punk rocka i psychobilly niż debiut zespołu. Repertuar THE KOLT nabiera nowego klimatu bowiem zespół sięgnął na nowym krązku także po zgoła niepunkowe instumentarium dogrywając w niektórych utworach partie trąbki. Zainteesowani punkowo-piekielną propozycją grupy mogą sami ocenić na ile album wart jest grzechu bowiem dzisiaj w naszym dziale DOWNLOAD pojawiły się dwa promocyjne pliki MP3 z utworami "Ostatni Łyk" i "Degustator" [Zbieżnośc tytułów przypadkowa :-)].
Tydzień później do sklepów trafi nowy album ANTI DREAD, który zapewne wzruszy kilka osób, kilka rozbawi, a kilka sprowokuje do tego aby rzucić na zespół klątwę. Jednak fani punkowego rock'n'rola będą mieli z pewnościa niezła ucztę słuchając nowych produkcji kapeli, ktora usiłuje przekonać nas, ze "Wszyscy jesteśmy lesbijkami".
W dziale DOWNLOAD do ściągnięcia promocyjny plik MP3 z utworem "Reklamówka z Netto"
Oba albumy już dzisiaj można zamawiać w naszym sklepie w specjalnej przedpremierowej cenie 20 zł. Od dnia premiery cena obu płyt bedzie taka jak wszystkich pozostaych krążków z Jimmy Jazz - 25 zł.
Płyty wysyłane będą w chwili otrzymania nakładu z tłoczni.
W dziale DOWNLOAD pojawił się także kolejny plik promocyjny z utworem "Droga 66" z nowej płyty THE HEADHUNTERS.