"Prowadź mnie ulico vol.4" - Kolejna część składanki z kapelami z Jimmy Jazz!!!
2007-06-06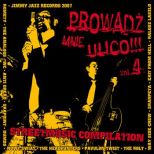 Jak co roku w okolicach wiosny tak i obecnie zapowiadamy pojawienie się kolejnej - bardzo popularnej wśród fanów punk rocka, ska i rock'n'rolla - części doskonale znanej składanki z kapelami związanymi z Jimmy Jazz Records.

Tradycyjnie - podobnie jak w przypadku porzednich części - większość utworów zawartych na płycie nie była publikowana wcześniej. Uzupełniają je nagrania pochodzące z ostatnich premier płytowych wytwórni i zapowiedzi wydawnicze. Tym razem na krążku znajdą się 24 utwory, a pośród nich ponad połowa to absolutne premiery.

W zestawie utworów m.in.: Komety w singlowym nagraniu "Wyglądasz źle" zapowiadającym nowy album pt. "Akcja v1", The Analogs w niepublikowanym utworze "Linia Frontu", Pavulon Twist w dwóch utworach, które znajdą się na debiutanckim krążku grupy oczekiwanym przez fanów stylowego rockabilly i surf, The Kolt, Kalosz Laszlo i The Headhunters w nagraniach promujących wydane właśnie, nowe płyty tych kapel, Anti Dread w najmniej świńskich utworach z nowej płyty pt. "Wszyscy jesteśmy lesbijkami", Skarpeta przypominająca swoje przeboje sprzed lat, wznowione na CD "Ulubieńcy Bandytów", do tego niepublikowane nagrania Dumbs, Nowego Świata, legendy polskiego punk rocka WC, Way Side Crew, Skapoint i Exit From Hell w kilku przypadkach pilotujące nadchodzące, jesienne premiery z Jimmy Jazz Records.

Na płycie dominuje melodyjny punk rock ale nie brak też rytmów ska oraz psycho i rockabilly, zatem jak zwykle, krążek uderza w różne gusty słuchaczy i zapewne - jak to było w przyszłości – znajdzie spore grono odbiorców, zwłaszcza, że tradycją jest specjalna, niska cena płyty - w naszym sklepie tylko 15 zł.
Starym zwyczajem premierową pozycję bezie można zamówić już kilka dni przed premierą "Prowadź mnie ulico vol.4" w jeszcze niższej cenie o czym poinformujemy na naszej stronie. Premiera handlowa płyty 25 czerwca 2007.
TRACKLISTA:
1. KOMETY – "Wyglądasz źle" (4:18) - niepublikowany
2. SKAPOINT – "I Love Ska" (4:01) - niepublikowany
3. ANTI DREAD – "Zabawka" (3:06)
(CD JAZZ 103 "Wszyscy jesteśmy lesbijkami")
4. NOWY SWIAT – "Dead Boys" (2:23) - niepublikowany
5. DUMBS – "I Can't Feel Relaxed" (1:15) - niepublikowany
6. PAVULON TWIST - "Dice With Devil" (4:52) - niepublikowany
7. THE KOLT - "Ostatni łyk" (2:16) (CD JAZZ 102 "Odsłona II")
8. EXIT FROM HELL - "Do zobaczenia" (1:42) - niepublikowany
9. THE ANALOGS - "Linia Frontu" (2:06) - niepublikowany
10. WC - "Prezydent" (2:42) - niepublikowany
11. WAY SIDE CREW - "Powiedz mi" (1:51) - niepublikowany
12. SKARPETA - "No Alko" (3:12) (CD JAZZ 100 "Ulubieńcy bandytów")
13. KALOSZ LASZLO - "J.K" (2:19)
(CD JAZZ 101 "Very Nice Peace, Quiet And Pretty Face")
14. EXIT FROM HELL - "40%" (2:37) - niepublikowany
15. THE HEADHUNTERS - "Droga 66" (2:47)
(CD JAZZ 098 "Nie lubię radia")
16. NOWY SWIAT - "Kino Moskwa" (2:20) - niepublikowany
17. ANTI DREAD - "Musze ją mieć" (2:24)
(CD JAZZ 103 "Wszyscy jesteśmy lesbijkami")
18. THE KOLT - "Degustator" (2:43) (CD JAZZ 102 "Odsłona II")
19. DUMBS - "I Don't Wanna Do Anything" (1:07) - niepublikowany
20. WC - "Szczęście" (1:33) - niepublikowany
21. THE HEADHUNTERS - "Nie lubię radia" (3:30)
(CD JAZZ 098 "Nie lubię radia")
22. SKAPOINT - "Don't Even Try! " (4:58) - niepublikowany
23. SKARPETA - "Mickey Monster" (1:55)
(CD JAZZ 100 "Ulubieńcy bandytów")
24. PAVULON TWIST
- "Bloodstains On My Shoes" (3:30) - niepublikowany