"Prowadź mnie ulico vol. 3" już w sprzedaży!!!
2006-07-04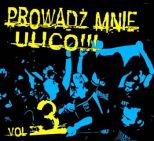 Oficjalna premiera najnowszej składanki "Prowadź mnie ulico vol.3", prezentującej wykonawców związanych z Jimmy Jazz Records nastąpi 10 lipca. Wówczas płyta pojawi się w sklepach i dystrybucjach, jednak już od dzisiaj pozycja ta jest dostępna na naszej stronie. Wystarczy odwiedzić nasz sklep gdzie do wglądu także tracklista zawierająca szczegółowe informacje na temat wykonawców i utworów. Zdecydowana większość zawartości płyty to nagrania wcześniej niepublikowane co tradycyjnie stanowi o atrakcyjności kolejnych składanek pod tym tytułem. Dodatkowym plusem będzie także zapewne specjalna cena. Podobnie jak poprzednie części, również ta kosztuje w naszym sklepie 15 zł.
Na krążku wydanym w postaci digi-paku nagrania takich wykonawców jak: THE ANALOGS, KOMETY, WAY SIDE CREW, NOWY ŚWIAT, PAVULON TWIST, ROAD TRIP'S OVER, O.D. C., ANTI DREAD, THE CUFFS, THE KOLT, REWIZJA, BANG BANG, SKAMPARARAS, WC, EMERALD, THE HEADHUNTERS....
Zobacz także:
INFO: ---> "Prowadź mnie ulico vol.3"
SKLEP: ---> "Prowadź mnie ulico vol.3"