Promocja Noworoczna 2011!!!
2011-01-01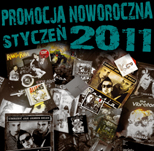 Życząc naszym przyjaciołom, znajomym i kilentom wszystkiego najlepszego w Nowym Roku 2011 informjemy jednocześnie, że wzorem z przeszłości dajemy wszystkim zainteresowanym szansę skorzystania ze zniżki jaką niesie ze sobą coroczna promocja w naszym sklepie internetowym.

Historia przyzwyczaiła was, że promocją objęte są główne wydawnictwa muzyczne... Tym razem - wzorem roku ubiegłego - posunęliśmy się dalej i proponujemy zniżkę na WSZYTSKO CO MOZNA ZNALEŹĆ W NASZYM SKLEPIE.... poczynając od znaczków, breloków, prasy, książek... poprzez wszelkiego rodzaju wydawnictwa muzyczne (kasety, CD, winyle, płyty DVD) do ciuchówi (koszulki, polówki, kurtki) i sprzetu audio (gramofony)....

KILKA WAŻNYCH INFORMACJI DLA KORZYSTAJĄCYCH Z PROMOCJI:
- Jedynym warunkiem aby uzyskać 10% rabat na towary zakupione w naszym sklepie jest dokonanie zamówienia na minimum 100 zł.
- W związku z promocją sposób dokonywania zamówień nie ulega żadnej zmianie.
- Promocyjny rabat wbijany jest automatycznie przez system i po przekroczeniu kwoty 100 zł wszystkie towary dodają się do koszyka w niższej cenie. Finałem jak zwykle jest wybór dowolnej opcji dostawy i płatności....
- Niezmiennie wszystkie zamówienia na kwote powyżej 200 zł. (już po promocyjnym rabacie) promowane są gratisową wysyłką - wówczas płacisz tylko za zamówiony towar, a w panelu sklepu wybierasz dowolny rodza wysyłki, którą realizujemy na nasz koszt.
- Po złożeniu zamówienia nie ma potrzeby oczekiwania na potwierdzenie rabatu czy kwoty do zapłaty... Wszystko widać w trakcie zamówienia i póżniej nic się nie zmieni....
- W sklepie JIMMY JAZZ RECORDS nie ma trzeba potwierdzać obecności towaru... Jeśli czegoś NIE MA w ofercie to tego NIE WIDAĆ... a jak do sklepu WRACA to ponownie POJAWIA SIĘ w ofercie...
- Towar, który się kończy znika ze sklepu i jest niewidoczny (do momentu uzupełnienia stanów), zatem uprzedzając pytania tych, którzy zbyt długo zwlekają z decyzją ("Wczoraj było widać a dzisiaj nie. Co się stało?") informujemy, że.... Jeśli płyta była widoczna wczoraj, a dzisiaj jej nie ma to znaczy, że ktoś był szybszy, a na chwile obecną płyty w naszym magazynie nie ma.... jeśli płyta, która cię interesuje jest dzisiaj widoczna w sklepie to nie znaczy, że tak będzie jutro... promocja jutro też trwa... ale zainteresowanych bywa wielu....
- Promocja potrwa do końca stycznia 2011.... W trakcie jej trwania wiele towarów będzie uzupełnianych, będą się także pojawiać nowe pozycje, dotychczas niedostepne w sklepie... one również objęte będa promocją......

Zatem STARTUJEMY!!!!!!!!!!!!!!!!!
KTO PIERWSZY TEN LEPSZY. Zapraszamy do ----> SKLEPU...