Premiery sierpnia....
2006-07-07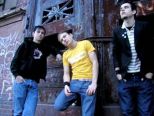 Ostatnim albumem wydanym przez Jimmy Jazz przed krótką wakacyjną przerwą jest składanka "Prowadź mnie ulico vol. 3" już dostępna w naszym sklepie. Po okresie krótkiego nieróbstwa
pojawią sie kolejne pozycje przygotowywane do wydania na sierpień 2006. W tym miesiącu planujemy 3 premiery, każda powinna zainteresować fanów punk rocka choć z pewnością nie da sie ich wrzucić do jednego stylistycznego worka.
WAY SIDE CREW na drugim albumie pt. "Razem do piekła" zaprezentują się w nieco bardziej melodyjnej odsłonie niż na debiutanckim krążku. To co obecnie proponuje zespół bez większego ryzyka nazwać można ulicznym rock'n'rollem choć jeśli ktoś doszuka się w ich muzyce wpływów hardcore też będzie miał rację.
REWIZJA powinna najbardziej zakręcić wszystkich zwolenników dobrego punk rocka w starym stylu. 15 kompozycji zawartych na debiutanckiej płycie "Mity i legendy" doskonale wpasowuje sie w uliczną stylistykę nawiązując do odległych brzmień sprzed lat cenionych nadal przez wielu słuchaczy.
ROAD TRIP'S OVER to ultra-melodyjny strzał między oczy, skierowany w każdego kto ceni melodyjny punk w kalifornijskim stylu. "Romance On The Phone" przenosi na płytę wszytsko to co znamy z występów grupy na żywo... Energia, żywioł, melodyjność i przebojowe kompozycje zostające w pamięci już po pierwszym przesłuchaniu.
Próbki możliwości każdej z grup można poznać sięgając po składankę "Prowadź mnie ulico vol.3" o ostatni numer Garażu, w którym znalazły się także wywiady z REWIZJĄ i ROAD TIPS OVER.
Patrz także:
Strona ---> WAY SIDE CREW
Strona ---> ROAD TRIP'S OVER
Wszystkie kapele do obejrzenia takze w naszej ---> GALERII