Premiera nowego albumu KOMET. Zamów płyte w specjalnej cenie!!!
2007-09-14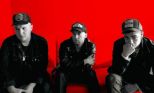 Premiera nowego albumu KOMET - jednej z najbardziej identyfikowalnych formacji alternatywnych w kraju - zatytułowanego "Akcja v1". będzie miała miejsce 24 września. Album w tym dniu trafi do sklepów w calej Polsce ale już od teraz można go zamwaiać za pośrednictwem naszego sklepu.
Wszystkie zamówienia złożone przed datą premiery - jak zwykle w takich przypadkach - honorujemy niższą ceną płyty, jeśli zatem ktoś zdecyduje się na zamówienie przed 24 września zapłaci za płytę 20 zł (plus poczta - przy zamowieniach powyzej 100 zł zamawiający nie płaci za pocztę tylko za zamówione plyty). Od dnia premiery cena albumu będzie taka jak większości wydawnictw Jimmy jazz Records czyli 25 zł.
Płyty zamówione w niższej cenie przed premierą rozsyłane będą przez nas na bieżąco w mowmencie otrzymania płyt z tłoczni
To już czwarty studyjny krążek w dorobku KOMET, od lat konsekwentnie napędzanych kolejnymi, świeżymi pomysłami Lesława, charyzmatycznego lidera grupy uznanego przez pismo literackie "Lampa" za jednego z najlepszych "songwriterow" przełomu wieków. Doskonałe przyjęcie poprzednich albumów "Komety", "Via Ardiente" i "2004-2006" niezbicie dowodzi klasy grupy. Sam Lesław twierdzi, że nowy album to najlepsza płyta jaką nagrał w życiu co – znając wcześniejsze dokonania KOMET i ich legendarnej poprzedniczki PARTII – z pewnością znajdzie potwierdzenie w zawartości "Akcji v1". Powszechnie znany eklektyzm muzyki Komet, dbałość o szczegóły i doskonała produkcja na tym krążku wsparte zostały brzmieniem oryginalnych starych instrumentów oraz szerszym niż zwykle instrumentarium takim jak saksofon, klarnet, altówka, skrzypce, theremin, dzwony, trąbka i wiolonczela, niezbyt często spotykanymi na rockowych płytach. Gwarantuje to fanom zespołu olbrzymia porcję muzycznych wrażeń.
Komety to jeden z nielicznych polskich zespołów, któremu udało się zaistnieć poza granicami Polski wiec na 22 października zapowiadana jest także eksportowa, angielskojezyczna wersja albumu. Obie wersje językowe ukażą się również na winylu (informacja o zamowieniach przedpremierowych wkrótce na naszej stronie).
Pierwszą próbkę dokonań Komet, pochodzącą z nowego albumu, jest utwór "Wyglądasz źle" obecny od kilku tygodni na playlistach wielu rozgłośni radiowych. Obecnie promocję płyty wspiera kolejny singiel.
Dla fanów alternatywnego rocka nowa odsłona dokonań warszawskiego tria to długo oczekiwana okazja do zapoznania się z premierowym materiałem jednej z najbardziej nietuzinkowych formacji w kraju.
Drugim singlem promującym album "Akcjav1" jest utwór "Spotkajmy się pod koniec sierpnia" już udostępniony w naszym dziale DOWNLOAD.
Na stronie KOMET (www.komety.com) można juz obejrzeć także teledysk do utworu "wyglądasz źle" pochodzącego z nowej płyty...
Zobacz teledysk: ---> "Wyglądasz źle"
Posłuchaj MP3 i zamów płytę: ---> KOMETY "Akcja v1"