Porachunki w rytmie Ska. Debiut 740 MILIONÓW ODDECHÓW!
2011-03-13
Szybkość z jaką krążek o tytule "Porachunki" opolskiej grupy 740 MILIONÓW ODDECHÓW przeszedł z fazy planowania w fazę dostępności w naszym sklepie jest nawet dla nas zaskoczeniem, a mamy nadzieję, że miłym zwłaszcza dla miłośników ska bo w tej stylistyce na krajowej scenie jakoś nie cierpimy z powodu zbytniego urodzaju....
Oddechy to doświadczona kapela ska, która dołącza do naszego ska-gangu z porcją 12 motorycznych kompozycji, o których więcej w notce o płycie poniżej...
Na karcie produktu do odsłuchania kilka sampli z płyty, zatem wpadajcie i zamawiajcie.....

740 MILIONÓW ODDECHÓW - Porachunki CD (Jimmy Jazz Records / Nr CD Jazz 146)
740 Milionów Oddechów to jeden z tych zespołów, które uznać należy za weteranów sceny ska i nie ma w tym większej przesady... Grupa pochodzi z Opola i zaczynając swoją działalność od punkowych brzmień z czasem przeszła na pozycje muzyczne, z którymi kojarzona jest obecnie.
Sami muzycy przyznają, że "...początku zespołu nikt za dobrze nie pamięta, ale za pomocą izotopu węgla udało się go ustalić na około 1994 r.n.e. Zaczęło się jak zwykle w Polsce w tamtych latach - od punka, później lekka domieszka reggae sprawiła że zespół złagodniał i z czasem grał głównie rytmy ska.
Przez długi okres wzlotów i upadków skład Oddechów zasilały niezliczone masy instrumentalistów. W różnych konfiguracjach osobowych zespół zagrał na większości znaczących imprez w tym kraju, a także niezliczonych wsio-domokulturowo-klubowych spędach lat 90.
Najważniejszym motywatorem twórczości bandu była publiczność która zawsze ładowała baterie maszyny 740 na 740 procent.
Oddechy - paczka przyjaciół, która mimo różnic charakteru, poglądów i upodobań muzycznych potrafiła przebywać razem w pomieszczeniu nie większym niż średnia łazienka i do tego, grając do utraty sił w temperaturze wrzenia - dobrze się bawić".
Mimo imponującego stażu scenicznego grupa nigdy nie doczekała sie oficjalnego wydawnictwa, które byłoby choćby namiastką podsumowującą jej dokonania... Do teraz.

Dzisiaj Oddechy to grupa dojrzała, świadoma swoich wad i zalet, gotowa na pokazanie w telegraficznym skrócie kilkunastu kawałków, z kilkudziesięciu które powstawały przez cały okres ich burzliwej działalności.
Ten zbiór energetycznych hitów ska, w których zespół bez skrępowania sięga także po inspiracje mniej jamajskie wypełnia debiutancki album zatytułowany "Porachunki".
Na krążku znajdujemy 12 kompozycji Oddechów powstałych w latach 2004-2010, w których zespół wspiera pokaźne grono zaproszonych gości zaś miksem i masteringiem całości zajęli się znani fanom jamajskich brzmień Smoku i Activator Mario Dziurex.
Jeśli tylko sięgniesz po płytę pamiętaj, że to nie przypadek, to część planu, którego głównym celem jest - jak zapewniają muzycy - dobra zabawa....

Lada chwila w sklepie pojawią się koszulki zespołu oraz dwa wzory znaczków. Jeśli ktoś ma ochotę na zespołowe gadżety to polecamy odrobinę cierpliwości... ale jeśli celem nr 1 jest muzyka to już dzisiaj zapraszamy do sklepu:
ZAMÓW ----> CD 740 MILIONÓW ODDECHÓW - Porachunki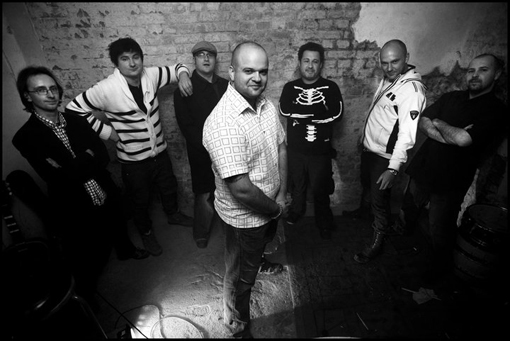 Posłuchaj singlowego numeru na naszym ---> Myspace