Polskie wznowienie ostatniego albumu URBAN DOGS.
2007-04-23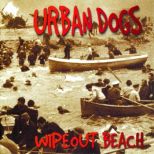 Trzeci i zarazem ostatni studyjny album Urban Dogs nagrany w 1998 roku o tytule "Wipeout Beach" wyda wkrótce łódzka wytwórnia Noise Annoys. Przez wiele lat album ten był praktycznie niedostępny. Teraz ukaże się jako wznowienie w postaci digi packu z książeczką zawierającą teksty i informacje o płycie oraz zespole autorstwa Knoxa z The Vibrators. Płyta zawiera 17 premierowych utworów. Producentem materiału był Dave Goodman, odpowiedzialny m.in. za pierwsze nagrania Sex Pistols.
U.K.Subs + The Vibrators = Urban Dogs.
TRACKLISTA:
1. Junkie Hell
2. Punk Rock City
3. Millennium Dome
4. Whip Me Whip Me
5. Police State
6. Rare Disease
7. State Of Grace
8. Quarantine
9. Destroy
10. Don't Jump My Train
11. Schizophrenia
12. Whipeout Beach
13. Step The Mind Gap
14. Hey Joe
15. Baby Marley
16. This Machine
17. Punk Rock Ist Nicht Tot