"Polskie piekło" na nowym albumie Redakcji...
2016-01-31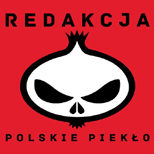 "Polskie piekło" to trzeci album Redakcji po płytach "Horrroskop" i "Cyfrowe średniowiecze" wydanych przez Jimmy Jazz Records. Tym razem wydawcą krążka jest wytwórnia Lou & Rocked Boys.  
Nowa płyta Redakcji jest swoistą syntezą poprzednich albumów: łączy melodyjność pierwszego z agresywnym, czadowym graniem drugiego. Na "Polskie piekło" trafiło dwanaście premierowych piosenek i - podobnie jak w przypadku poprzedniego albumu - dwa utwory Absurdu ("Zżera mnie dżuma" i "Doły"), kultowego, punkowego zespołu Darka Duszy z lat osiemdziesiątych. Piosenki te to ostre, gitarowe granie z melodyjnym wokalem, wsparte mocną sekcją.
Redakcja tradycyjnie na bazie rockowej tworzy repertuar, który z równym powodzeniem trafia do fanów punk rocka, rock'n'rolla jak i tradycyjnego rockowego brzmienia. Wzorem pierwszej płyty muzycy tym razem sięgneli także po elementy reggae oraz urozmaicili swoje instrumentarium m. in. o saksofon, sitar czy banjo. Całość płyty doskonale uzupełniają teksty Darka Duszy. Jak zwykle ironiczne, jak zwykle buntownicze.