Po latach oczekiwań... debiutancki album grupy PAN PROFESKA.
2008-10-14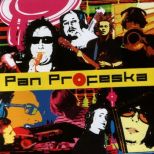 Jeśli w Polsce w ciągu roku wychodzą 3-4 płyty ska to znaczy, że mamy wysyp tego typu wydawnictw, ale jeśli oprócz tego dwa tutuły wychodzą w odstępie miesiąca to już graniczy z wydawniczą histerią :-), a tak jest ostatnio... Oczywiście fani ska nie mają nic przeciwko temu i zacierają ręce.
Przed wakacjami w katalogu Jimmy Jazz pojawiły się debiutanckie wydawnictwa ZIGGIE PIGGIE, SKAMBOMAMBO, drugi album ZŁODZIEI GŁÓW i trzeci SKAMPARARAS... Niedawno informowaliśmy o debiucie płytowym WERSJI DE LUX (Burning Chords), a obecnie odnotowujemy debiutancki album formacji PAN PROFESKA, która fanom ska znana jest z kilku wydawnctw składankowych (m.in. "Pol-SKA Norma" (Rock'n'roller/Jimmy Jazz Records) wydanych wiele lat temu.

Album PANA PROFESKI pod tytułem "Pan Profeska" ujrzał właśnie światło dzienne i sygnowany jest nazwą wydawnictwa Gabinet Pana Profeski Records co sugeruje własną inicjatywę grupy.
Wszyscy, którzy pamiętają stare dokonania tej formacji zapewne chętnie sięgną po płytę, zwłaszcza, że opócz premierowych kompozycji znaleźć można na niej znane utwóry takie jak "Kameleon", "Speed" czy "Skierniewice", które nawet po latach milczenia zespołu trudno wyrzucić z pamięci.
Materiał zawarty na płycie zarejestrowany został między lipcem 2005, a majem 2007 roku w studio S7.
Płyta jest juz dostepna w naszym sklepie. Zapraszamy na zakupy.