Płyty Pama International w naszym sklepie.
2005-12-18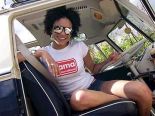 Miękki, charakterystyczny głos Finny'ego to połowa sukcesu PAMA INTERNATIONAL, a druga to doskonały repertuar osadzony na równi w tradycji jamajskiej jak i subkulturowych korzeniach brytyjskiego reggae i ska przez laty słuchanego przez wyspiarskich modsów i skinheadów. Pama International od lat są bardzo widocznym bandem na brytyjskiej scenie co zupełnie nie dziwi nikogo kto zetknął się z ich dokonaniami.

Mamy tu jak zwykle charakterystyczne brzmienie Hammondów, delikatne dęciaki, pojawiający się czasem scrach i cała masę innych efektów podanych z wyczuciem i powodujących, że każde przyrządzone przez zespół danie nabiera specyficznego smaku. Trudno jest jednoznacznie sklasyfikować Pama International ale to chyba jego najpoważniejsza zaleta.

Płyty tej grupy własnie - w komplecie - trafiły do naszego ---> SKLEPU gdzie odsyłamy wszytskich zaintaresowanych. Tam także sporo uzupełnionych pozycji z angielskiej wytwórni Do The Gog preferującej współczesne i tradycyjne brzmienie srocksteady, ska i reggae.
Więcej informacji o zespole na stronie ---> PAMA INTERNATIONAL.