Płyta na 20-lecia The Analogs ...
2015-04-03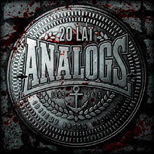 THE ANALOGS to jeden z najaktywniejszych koncertowo i wydawniczo zespołów w naszym kraju obchodzący w bieżacym roku swoje 20-lecie.  Własnie z tej okazji THE ANALOGS przygotowali album zawierający 20 najpopularniejszych piosenek zespołu z całego okresu swojej aktywności.
Płyta ukaże sie 15 kwietnia 2015 r. nakładem Lou & Rocked Boys oraz Oldschool Records, w pózniejszym czasie zapowiadana jest także wersja winylowa płyty. 
Większość utworów zawartych na albumie "20 lat idziemy droga tradycji" została nagrana ponownie z myślą o tym wydawnictwie, a nadzór nad brzmieniem całości wziął na siebie Konrad Wojda, gitarzysta zespołu FARBEN LEHRE (zagrał on również gościnnie w kilku piosenkach).
Zestaw umieszczonych na płycie utworów został dobrany według "klucza koncertowego" czyli znalazły się w nim te utwory na które publiczność reaguje najbardziej żywiołowo.
Premiera CD 15 kwietnia, ale już dzisiaj zapraszamy do naszego sklepu, gdzie można składać zamówienia na jubileuszowy krążek THE ANALOGS.
Realizacja zamówień w dniu premiery.

Zamów ---> CD THE ANALOGS - 20 lat idziemy drogą tradycji.

Sprawdź ---> inne płyty THE ANALOGS