People Like You w natarciu...
2006-08-23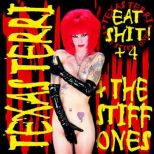 Anonsowane przez nas niedawno nowe albumy ROGER MIRET & THE DISASTERS, P.PAUL FENECH'a i DISTRICT to nie jedyne, jesienne, płytowe zapowiedzi niemieckiej wytwórni People Like You. Firma ta najwyrażniej działa w myśl zasady mistrza Hitchcock'a... "na początku trzęsienie ziemi, a potem napięcie stopniowo rośnie"... bowiem po niewątpliwych strzałach między oczy jakimi będą wspomniane wcześniej albumy, kolejny meldunek z PLY donosi o nowych produkcjach TOTAL CHAOS, DIE HUNNS i TEXAS TERRI.
21 sierpnia miała miejsce premiera albumu "17 Years Of Chaos" amerykańskiej formacji TOTAL CHAOS znanej m.in z wcześniejszej w współpracy z wytwórnią Epitaph. Krażek zawiera przekrój działalności zespołu podany w postaci 28 utworów i pliku video i z pewnością zadowoli każdego kto lubi mocne hardcore-punkowe brzmienie.
TOTAL CHAOS - "17 Years Of Chaos" - Tracklista
1.Warning/Intro 1:32
2.Riot City (taken from Pledge of Defiance) 2:16
3.Army Story (New Track) 2:00
4.Kill the Nazis (taken from Patriotic Shock) 2:13
5.Lost Boys (taken from Anthems from the Alleyway) 2:56
6.Am I Free (taken from Punk Invasion) 2:17
7.Horror Visions (taken from Freedom Kills) 2:29
8.Babylon (taken from Pledge of Defiance) 2:04
9.My Generation (taken from Patriotic Shock) 2:59
10.Complete Control (taken from Anthems from the Alleyway)2:53
11.DUI (taken from Punk Invasion) 2:13
12.Baby I Hate You (taken from Anthems from the Alleyway) 2:50
13.What you gonna do (taken from Freedom Kills) 3:12
14.Gomer Pyle (taken from Pledge of Defiance) 3:35
15.Squatters Song (taken from Patriotic Shock) 2:44
16.Riot 77 (taken from Anthems from the Alleyway) 3:38
17.Take you down (Bonus Track)1:56
18.Punk Invasion (taken from Punk Invasion) 1:54
19.Another Boot Party (taken from Anthems from the Alleyway) 2:18
20.Running with the Youth (Bonus Track) 2:55
21.Twisted Cross (taken from Pledge of Defiance) 1:53
22.Unite to Fight (taken from Patriotic Shock) 2:16
23.In God We Kill (Bonus Track) 2:33
24.Murdered (taken from Punk Invasion) 2:07
25.Freedom Kills (taken from Freedom Kills) 3:46
26.Pain, Agony, Defeat (Bonus Track) 1:07
27.U.V.P. (Bonus Track) 1:21
28.Enraged (Unreleased Bonus Track) 4:31
and enhanced video track.

16 października pojawi sie nowy krążek amerykańskiej formacji DIE HUNNS, w której składzie odnajdujemy m.in. Duane Peters'a (US BOMBS) i basistkę Corey Parks (NASHVILLE PUSSY, CHARLEY HORSE). Na albumie "You Rot Me" zespoł zamieścił 10 kompozycji w punk rockowej stylistyce będącej mieszanką różnych wpływów. "Wyobraź sobie "Transformer" Lou Reed'a grany przez The Stooges i wyprodukowany przez Marc'a Bolana wtedy zaczniesz łapać ideę" - tak o brzmieniu tej płyty pisze wydawca.
Pewne jest, że album zapowiada się intrygująco... Wkrótce po jego wydaniu Duane Peters i Corey Parks odbędą krótkie tournee po Niemczech, Szwajcarii i Austri. Pierwszy u boku US BOMBS, a Parks z towarzyuszeniem formacji CHARLEY HORSE.
Warta odnotowania jest także informacja, że jednym z producentów płyty jest Zander Schloss znany ze współpracy m.in. z The Weirdos, The Circle Jerks i Joe Strummerem.

DIE HUNNS - "You Rot Me" - tracklista
1. Mad Society 2:49
2. Jorge 3:51
3. You Rot 4:05
4. Don`t Want To Hear 3:57
5. Rocknroll Boulevard 4:45
6. Die For Me 4:43
7. Ain`t It A Shame 3:29
8. 47th Street 2:33
9. On My Mind 3:44
10. Night Like Tonight 4:50


Również 16 pażdziernika ustalono dniem premiery albumu intrygującej TEXAS TERRI. Poprzednia płyta firmowana nazwą TEXAS TERRI BOMB dla wszytskich, którzy mieli okazję się z nią zapoznać z pewnością była jednym z najlepszych albumów punkowych ostatnich lat. Punkowa energia podlana rockowymi riffami i rewelacyjny głos wokalistki pozwalają mieć nadzieję, że i na zapowiadanej produkcji - tym razem nagranej jako TEXAS TERRI + THE STIFF ONES - Terri nie spuści z tonu, a krążek zawierający 16 utworów (w tym także cover THE DICKS "Lifetime Problems" oraz THE DICTATORS "Baby Let's Twist") i teledysk do utworu "Oh Yeah!" powali na kolana wszytskich starych i nowych fanów.
Zawartość płyty pt. "Eat Shit + 4" to starsze nagrania, wcześniej niepublikowane plus kilka nagrań demo, które chwilowo powinny wystarczyć fanom bo całkowicie nowego albumu Texas Terri można spodziewać się w 2007 roku.

TEXAS TERRI + THE STIFF ONES - "Eat Shit & 4" - tracklista
1. Mick's Bitch
2. Lifetime Problems
3. Holy Ghost
4. Situation
5. Sad Life
6. Oh Yeah!
7. Me Mad
8. Burgers & Fries (You're Not Alive)
9. Baby Bird Shuffle
10. Cave Woman
11. King & I
12. If Looks Could Kill
13. Baby Let's Twist
Bonus Tracks:
14. Women Should Be Wilder
15. Situation (Demo)
16. Holy Ghost (Demo)
Extra Bonus Video: "Oh Yeah!"

Wszystkie zapowiadane albumy wkrótce w naszym ---> SKLEPIE