Pełnoletni THE ANALOGS...
2013-08-23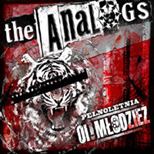 The Analogs po 18 latach działalności postanowili podkreślić swój staż sceniczny i sięgnąć ponownie po swoje debiutanckie nagrania zarejestrowane pierwotnie w 1996 roku. Album "Oi! młodzież" wydany wówczas przez Jimmy Jazz Records zapoczątkował muzyczną drogę zespołu, który podąża nią konsekwentnie do dziś, a debiutancka płyta stała się punkowym klasykiem dla kilku pokoleń słuchaczy w Polsce.

Aby uczcić osiemnastolecie swojego istnienia muzycy postanowili jeszcze raz nagrać swój debiutancki album. Trzynaście ulicznych hymnów, które śpiewane są przez kolejne pokolenia, nieprzystosowanych i krytycznie patrzących na świat ludzi zostały nagrane w Mania Studio, co nadało im lepsze brzmienie i dynamikę.

Muzycy THE ANALOGS nie zmienili nic w utworach, a jedynie odświeżyli je. Jak sami mówią, uważają ten materiał za kultowy, więc nie bawili się w nowe aranżacje i ulepszenia. Poprawili jedyni braki brzmieniowe wynikające ze sposobu pierwotnego nagrywania utworów.

Album "Pełnoletnia Oi! młodzież" jest drugim krążkiem nagranym przez The Analogs dla wytwórni Lou & Rocked Boys i wydany zostanie w dwóch wersjach. Nowa wersja albumu dostępna jest na jednym CD, natomiast limitowana edycja specjalna uzupełniona została drugim dyskiem, który zawiera oryginalny album z 1996 roku. Edycja limitowana dostępna jest jedynie na koncertach The Analogs, na stronie zespołu oraz w sklepach internetowych Lou & Rocked Boys i Jimmy Jazz Records.

Premiera płyty 10 września 2013 ale już dzisiaj w naszym sklepie możecie zamawiać krążek w obu wersjach. Wysyłka zamówionych płyt będzie miała miejsce w dniu premiery.|

Zamów ---> THE ANALOGS - "Pełnoletnia Oi! młodzież" (30 zł.)

Zamów ---> THE ANALOGS - "Pełnoletnia Oi! młodzież/ Oi! młodzież" (2CD) (35 zł.)

UWAGA:
Ilość płyt z bonusowym albumem "Oi! młodzież" ograniczona. Po sprzedaniu posiadanej przez nas puli płyta w sklepie Jimmy Jazz Records będzie niedostępna.