Pama International na swoim trzecim albumie.
2005-06-15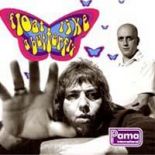 Brytyjska formacja PAMA INTERNATIONAL lubująca się w łączeniu stylów Ska, Rocksteady, Dub i Soul (i znana m.in. z utworu zamieszczonego na jednej z płyt dołaczonych do Garazu) wypuściła swój trzeci album. Tym razem wydawcą płyty jest w Anglii firma Do The Dog Records, a w Stanach wytwórnia Asian Man Records.
Płyta nosi tytuł 'Float Like A Butterfly" i nagrana została z udziałem muzyków znanych z takich formacji jak The Specials, Madness, The Special Beat czy zespół Paula Wellera. Dodatkowym smakołykiem na płycie jest sesja zrealizowana dla "Radio One" (BBC) zawierająca utwory znane z poprzenich płyt ale w wersjach nigdy nie publikowanych w Anglii.
Więcej o zespole na stronie www.pamainternational.co.uk