PAVULON TWIST
2008-01-30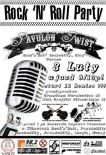 3 lutego - niedziela - ROCK 'N' ROLL PARTY
Koncert zespołu PAVULON TWIST
Przed i po koncercie impreza w klimatach:
Rock 'N' Roll, Psychobilly, Rockabilly, Drunkabilly, Boogie, Swing
Wejscie: 17.00
Start: 18.00
Bilety:
Przedsprzedaż - 8 zł (GreenCamo ul. Narutowicza 48, Klub Graffiti) / W dniu imprezy - 10 zł
Impreza z założenia jest Impreza taneczna przy starym dobrym Rock'n'Rollu jak i Rockabilly, Psychobilly, Swingu i Boogie. Podczas imprezy będzie można usłyszec i zobaczyć jeszcze chudego Elvisa, zawsze uśmiechniętego Chubby Checkera jak i legendarnego Johny Casha, czy Carla Perkinsa. Ponadto polecą największe Hity Rock'n'Rolla które można bez obawy uznać za piosenki nieśmiertelne. Podczas całej imprezy nikt nikogo do tańca zmuszać do tańca nie będzie, bo to same nogi porwą uczestników, a biodra same zaczną się bujać w rytm muzyki. Miejsca siedzące zapełnia się tylko wtedy gdy uczestnicy nie będą mieli już siły tańczyć, choć prawa czy lewa noga sama będzie wystukiwać rytm Muzyki.
Cała ta Rock'n'Roll'owa impreza zostanie wzbogacona o występ zespołu Pavulon Twist przy którym będzie można równie dobrze kontynuować taniec jak i poskakać przy szybszych kawałkach. Zespół Ten może się poszczycić niesamowicie dobra płytą mimo że debiutancka utrzymana w klimatach Rock'n'Roll, Rockabilly i Surf, a nazwa jej mówi sama za siebie "No Twist, Just Boogie!".
Oczywistym także jest ze po występie tych Warszawskich Rock'n'Rollowców z głośników ponownie poleci muzyka a wszyscy chętni dadzą się porwać ponownie w wir tańca.
PAVULON TWIST nie jest określeniem przedśmiertnych drgawek w slangu łódzkiego pogotowia. PAVULON TWIST to muzyczna podróż autostradą przez bezkresne prerie z milionem dolarów i nieboszczykiem w bagażniku. To niepokojące nastroje rodem z filmów Tarantino, obok energicznych, korzennie rockandrollowych rytmów.
Rockabilly, surf, garage, trash country plus zastrzyk z trucizny – oto muzyka PAVULON TWIST.