PARTIA - Umrzeć jak James Dean... Polowanie na numery winyli.....
2010-11-17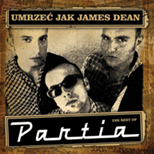 Zapowiadana przez nas od dłuższego czasu premiera albumu "Umrzeć jak James Dean" legendarnej PARTII zbliża się milowymi krokami. Już jutro zaczynamy POLOWANIE NA NUMERY winyli.... Już lada chwila do naszego sklepu trafią pakiety dla ultra fanów zespołu, wkrótce także bluzy i koszulki z motywem graficznym albumu "Umrzeć jak James Dean"... ale po kolei...

Partia, działająca w latach 1993 - 2003 w chwili obecnej oceniana jest nie inaczej jak tylko w kategoriach kultowych. Fani grupy nie mają co do tego wątpliwości, a ci którzy nie mieli szczęścia i okazji zetknąć się z dokonaniami warszawiaków w okresie ich aktywności, za sprawą tej płyty mogą nadrobić zaległości.

Swoją pozycję w historii polskiej muzyki zespół zawdzięcza w równej mierze doskonałemu repertuarowi opartemu o nowoczesne, charakterystyczne brzmienie powstałe w oparciu o swing, rockabilly, bigbit zagrane z punkowa energią oraz polską tradycję pop-kulturową lat 50, 60 i 70-tych.
To swoiste połączenie stworzyło muzyczny wizerunek Partii, który nawet po latach wydaje się być nie do podrobienia, a jego wizualnym uzupełnieniem jest stylowy image grupy.
Charakterystyczne teksty lidera zespołu Lesława, poza dużą dawka osobistych refleksji świadomie nawiązują do miejsc, w których na równi kształtowała się muzyczna i czysto ludzka świadomość muzyków. Nie przez przypadek jeden z albumów grupy nosi tytuł "Żoliborz-Mokotów" i nie przez przypadek Partia uznawana była za zespół na wskroś warszawski, co nie przeszkadzało zaistnieć jej szerzej .

Sceniczna aktywność Partii stała się inspirującym impulsem dla wielu artystów krajowej sceny muzycznej. Dowodem tego jest wydany w 2005 przez Jimmy Jazz Records album "Tribute to Partia", na którym swój muzyczny hołd dokonaniom kultowej formacji składa 24 wykonawców reprezentujących różne style muzyczne, a wśród nich m.in. The Analogs, Pustki, Muchy, Mitch & Mitch, Vespa, Happysad, Krzysztof Warga, Beri Beri, Wersja de Lux i wielu innych…
Ostatni koncert Partii odbył się 11 października 2003 roku w warszawskim klubie Galeria Off. Muzycy swoją artystyczną drogę do dzisiaj kontynuują w równie intrygujących Kometach, na koncertach sięgając po dokonania swojej poprzedniej formacji i wywołujące wśród fanów te same pozytywne reakcja jak przed laty. Dowodzi to niezbicie, że fenomen Partii pozostaje niepodważalny, a jej nagrania dziś i w przyszłości stanowić będą wskazówkę dla wielu artystów szukających inspiracji na krajowej scenie.

Album "Umrzeć jak James Dean – The Best of Partia" jest zbiorem najlepszych dokonań zespołu z całego okresu działalności. 16 zawartych tu kompozycji, zremasterowanych ponownie w warszawskim Studio Serakos to kwintesencja tego z czym kojarzona jest Partia.
Płyta przynosi niezapomniany i ciągle niezawodny zestaw największych hitów grupy, które pokazują o ile kroków Partia wyprzedzała swoją twórczością muzyczne trendy w czasach, w których przyszło jej działać. Nagrania takie jak: "Warszawa i ja", "Chciałbym umrzeć jak James Dean", "Dziewczyny kontra chłopcy", "Światła miasta", "Powietrze"… nadal emanują świeżością i aktualnością od lat goszcząc na playlistach rozgłośni radiowych. Teksty Lesława wciąż intrygują, zaskakują celnością obserwacji stanowiąc samodzielną jakość w połączeniu z dokonaniami muzycznymi lidera zespołu.

Mimo pozycji jaką Partia zdobyła sobie na scenie muzycznej zespół nigdy nie doczekał się albumu ze swoimi najlepszymi utworami. Płyta "Umrzeć jak James Dean – The Best of Partia" z pewnością uzupełni tą lukę w dyskografii przygotowując fanów do reedycji katalogowych albumów grupy.
Krążek wydany zostanie na winylu i w postaci CD. Wersja CD zawierać będzie dwa dodatkowe utwory, a wersja winylowa pojawi się w limitowanej ilości 300 sztuk, w tym 200 sztuk na czarnym i 100 sztuk na pomarańczowym winylu.
Każdą płyta winylowa ma wkładkę z notką o zespole i archiwalnymi zdjęciami oraz specjalną nalepkę ze swoim indywidualnym numerem. Winyle pomarańczowe mają dodatkowe oznaczenie w postaci nalepki informującej o kolorze płyty.

Dodatkiem do płyt CD są nalepki zespołu, a od dnia premiery krążka dostępne będą także koszulki i bluzy z motywem graficznym z albumu "Umrzeć jak James Dean".
W naszym sklepie pojawią się także specjalne pakiety dla ultra-fanów zespołu!!!
Premiera wydawnictwa (CD i LP) planowana jest na 20 listopada jednak już od godziny 00.00 w czwartek, 18 listopada zaczynamy tradycyjne "POLOWANIE NA NUMERY"!!!
Winyle o numerach od 011 do 211 (100 czarnych i 100 pomarańczowych) pojawią się w sklepie Jimmy Jazz Records o północy i każdy zainteresowany (i wystarczająco szybki) będzie mógł upolować swój indywidualny numer płyty.
Opcja zakupu płyty o konkretnym numerze będzie dostępna w naszym sklepie do 5 grudnia. W tym czasie winyle będą DOSTĘPNE TYLKO w sklepie Jimmy Jazz Records i dopiero po 5 grudnia trafią do innych dystrybucji i sklepów internetowych.

PARTIA – "Umrzeć jak James Dean" (tracklista):
1. Warszawa i ja
2. Pociąg do nikąd
3. Tydzień i jeden dzień
4. Piękny chuligan
5. Kieszonkowiec Darek
6. Prawdziwy partner
7. chciałbym umrzeć jak James Dean
8. Adam West
9. Kobiety
10. 30 dni i 30 nocy
11. Oskar Hell
12. Światła miasta
13. Skinhead Girl
14. Nieprzytomna z bólu
15. Powietrze
16. Dziewczyny kontra chłopcy (bonus tylko na CD)
17. Żoliborz –Mokotów (bonus tylko na CD)

Zapraszamy do śledzenia naszego serwisu i odwiadzania sklepu... codziennie nowe informacje dot. premiery płyty PARTII!!!