P.D.S. - 10 lat i 6 miesięcy czekania na debiut.
2005-05-13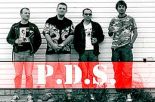 10 lat i 6 miesięcy czekał na swoją debiutancką płyte legionowsko-warszawski P.D.S. Griupa powstała w listopadzie 1994 roku i dopiero ostatnio doczekała sie pierwszego krązka wcześniej poajwaiając się m.in na składance "Tribute to Kryzys" i na płycie dołaczonej do Garazu. Zespół jest bez trudu identyfikowany na swoim rodzimym terenie zarówno za sprawą stazu scenicznego jaki i czestego pojawiania się na koncerrtach. Jest szansa, ze wkrótce stanie się znany w innych częściach Polski bo jego muzyka, mocno osadzona w tradycji starego punka, ma szanse podbić niejedno serce.
Debiutancki krazek P.D.S. przynosi 15 własnych kompozycji grupy oraz cover Kryzysu "Wojny gwiezdne", bedacych gejzerem punkowej energii.
Płyta wkrótce trafi do sklepów, a juz dzisiaj mozna zamawiać ją wysyłkowo za pośrednictwem anszego sklepu. Tam tez kilka plików MP3 z samplami utworów z płyty i jeden kawałek w całości. Patrz ---> Sklep
Wkrótce nagrania P.D.S. pojawią sie na płycie dołaczonej do Garazu nr 23 oraz, przygotowywanej do wydania, składance "Prowadź mnie ulico cz.2". Zespół zarejestrował tez jeden utwór na kompilację poświeconą RAMONES, gdzie znajdzie się takze nagranie grupy THE DUMBS (bedącej czymś na wzór coverbandu-Ramones), w której śpiewa wokalista P.D.S. Kuba. Obok niego P.D.S. tworzą Marcin (gitara), Mariusz (Perkusja) i Wojtek (bass)
Zespół wystąpił ostatnio na koncercie z okazji 10-lecia THE ANALOGS, gdzie pozostawił po sobie bardzo dobre wrazenie.
Adres internetowej strony zespołu ---> P.D.S.