Ozywienie w dziale z pakietami...
2016-07-03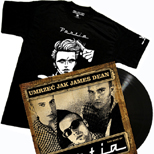 W dziale z pakietami, który od czasu do czasu uzupełniamy dając wam możliwość tańszego zakupienia niektórych pozycji z naszego katalogu pojawiły się trzy nowe pozycje. Tym razem dwie z nich skierowane są do fanów INDIOS BRAVOS, którzy mogą zaopatrzyć się w CD lub winyl z pierwszym albumem swoich ulubieńców a wszystko to w połączeniu z koszulką zespołu.
Trzeci pakiet to coś dla fanów Partii. 180 gramowy winyl z albumem "Umrzeć jak James Dean - The Best of Partia" w połączeniu z koszulką zespołu powinien bez problemu znaleźć chętnych zwłaszcza, że ilość pakietów w obu przypadkach jest ograniczona.
Wkrótce w dziale z pakietami znajdziecie nasze kolejne oferty umożliwiające zakup naszych pozycji katalogowych w niższych cenach.