Ostatnia szansa na własny numer LP Aliansu...
2010-05-16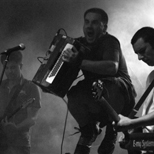 Tylko do poniedziałkowego południa - 17.05.2010 - można jeszcze zamówić swój własny numer winylowego krążka ALIANS "Egzystencjalna rzeźnia". Płyta wydana na 3 kolorach winylu (patrz ---> ALIANS) w limitowanym nakłdzie 500 kopii i przez ostatnie 2 tygodnie udostępniona była w naszym sklepie w sposób umożliwiający wybór własnego (jednego z jeszcze dostępnych) numeru.
Wiele osób skorzystao z tej opcji, a ci którzy jeszcze się nie zdecydowali mają ostatnia szansę aby to zrobić... Jutro w południe wszystkie numerowane winyle wracają w sklepie na swoje miejsce i będą dostępne w pozycjach różniących je jedynie kolorami. Oznacza to, że zamówiony krążek będzie wysyłany z numeracją losowo wybraną przy pakowaniu przesyłki. Można oczywiście zamieścić w zamówieniu swoją sugestię dotyczącą numeru i o ile będzie on dostępny to spełnimy życzenie zamawiającego... niemniej najlepszą - jak się wydaje - metodą jest skorzystanie z opcji wyboru tych numerów, które jeszcze nie zostały zamówione...
Ostatnia możliwośc to zamówienie płyty nie później niż w południe 17.05.2010.

Płyta Alians od 2 tygodni w całości dostępna jest na profilu MySpace zespołu i również jutro mija termin, w którym będzie będzie ją można odsłuchać.
Wszystkim maruderom sugerujemy mobilizację.... zapraszamy do naszego ---> SKLEPU i na profil MySpace ---> ALIANS.