Ostatni album 999 na CD w Noise Annoys.
2006-03-21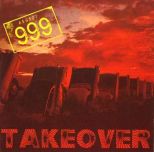 Po wydanym całkiem niedawno albumie i DVD U.K. SUBS łodzka firma Noise Annoys sięgneło po kolejnego punkowego klasyka z Wysp Brytyjskich. Tym razem wybór padł na grupę 999, której ostatni stydyjny album "Takeover" lada moment dotrze do sklepów i dystrybucji.
"Takeover" to ostatni studyjny album weteranów punk'77 z Londynu
nagrany w 1997 roku. Podobnie jak poprzedni longplay "You Us It!" prezentuje zespół w doskonałej formie. Jest to jeden z ich najlepszych albumów, który spokojnie można postawić na półce obok ich pierwszych trzech płyt.
Materiał został poddany masteringowi, a we wkładce do płyty pojawiły się teksty do wszystkich utworów oraz informacje o zespole autorstwa wokalisty i założyciela 999 - Nicka Casha.
Wkrótce płyta do nabycia w naszym sklepie.