OLDSCHOOL HALLOWEEN PARTY
2010-10-01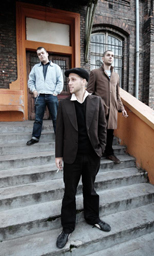 OLDSCHOOL HALLOWEEN PARTY
31.10.2010
Hydrozagadka (ul. 11 Listopada 22, Warszawa)
koncert:
THE JET-SONS (garage rockabilly)
OBIBOX (psychobilly)
after-dead-party: DJ Bigos (rock'n'roll i różne takie)
start 20.00
wst. 10 zł (po koncercie 5 zł)
THE JET-SONS to trio z Rzeszowa, grające pierwotnego i dzikiego rock'n'rolla, czyli rockabilly. Na swoim koncie mają sporo koncertów w kraju (min. Rawa Blues Festiwal) i za granicą (Węgry, Ukraina, Litwa, Łotwa, Estonia, Rumunia, Niemcy). Utwór Partii w ich wykonaniu znalazł się na składance Tribute to Partia.
Nagrali również płytę Tribute to Johnny Cash, na której znalazły się polskie wersje największych przebojów gwiazdy country i rockabilly. W 2008 ich wersja piosenki Elvisa Presleya ukazała się na międzynarodowej składance "Corny Elvis". Płyta została wydana przez Sound Action Promotion z RPA. W tym samym roku ukazało się DVD "Dixieland Valga Cruising 2008" na którym znalazło sie klika nagrań live z koncertu w Valga (Estonia). W Marcu 2009 roku światło dzienne ujrzała pierwsza pełnowymiarowa płyta zespołu zatytułowana "Rockabilly Garage", wydawcą jest Burning Chords Records.
W kwietniu 2009 zespół występował w Tallinn'ie na festiwalu 'Rockabilly Invasion'. We wrześniu the Jet-sons odwiedzili Rumunie, Węgry oraz Niemcy.
Rok 2010 zespół rozpoczął od udziału w międzynarodowej składance 'Songs Lux Taught Us - Tribute to the Cramps' wydanej w RPA gdzie zespół wykonuje 'Elvis Fucking Christ'. W kwietniu the Jet-sons podbija Europę odwiedzając 16 miast podczas trasy Booze Ride Tour (Węgry, Rumunia, Włochy, Francja, Belgia, Niemcy). W lipcu 2010 zespół opuścił Dominik, a jego miejsce zajął Mateusz...
Skład:
Dominik - gitara, wokal
Tomek - kontrabas
Niko - perkusja, washboard
www.myspace.com/jetsons
OBIBOX to prosty, łobuzerski, rock'n'roll, grany w najbardziej klasycznym składzie (gitara, kontrabas, perkusja). Powstanie zespołu to wynik fascynacji tradycyjną, starą szkołą psychobilly. W 2004 roku ukazuje się składanka "Psycho attack over Poland", będąca próbą prezentacji rodzącej się polskiej sceny psycho. Można na niej usłyszeć piosenkę Obiboxów "Rockabilly Kid". Mimo roszad personalnych wytrwale koncertujemy w warszawskich klubach. W 2008 roku Jimmy Jazz wydaje nasz debiutancki album. Znajduje się na nim dwanaście piosenek o przestępcach, kowbojach, niekochanych dziewczynach i nocnym życiu wielkiego miasta. Dzięki pomocy przyjaciół udaje się zrealizować bardzo fajny teledysk do utworu "Zło". Klip dobrze pasuje do miejskiej, nieco mrocznej atmosfery albumu. Od momentu wydania płyty zespół intensywnie koncertuje, grając w większych i mniejszych miastach w całej Polsce. Gramy również trzy koncerty w Niemczech (Berlin, Hamburg, Dortmund), supportując Washington Dead Cats. W 2008 roku zaliczamy udany występ na małej scenie festiwalu w Jarocinie. W międzyczasie przygotowujemy materiał na drugą płytę...
www.myspace.com/obibox