Nowy album punkowej legendy z Gdańska - DDT - "Lubisz to suko..."
2012-11-30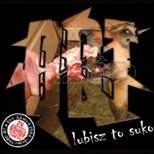 W 2008 roku, 21 lat po swoim ostatnim koncercie ponownie na scenie pojawiła się reaktywowana legenda gdańskiego punk rocka grupa DDT. Jej poczatki sięgaja końca lat 70-tych ub. wieku, a część oryginalnych muzyków pierwszego składu tej formacji w późniejszym czasie zasiliła inna legendarną grupę z Trójmiasta - PO PROSTU.
Po reaktywacji członkowie DDT nie skupili się wyłącznie na graniu koncertów zapowiadając pojawienie sie płyt z muzyką zespołu zatem tylko kwestią czasu było kiedy takie wydawnictwa trafią w ręce fanów.

Na pierwszy rzut poszły stare nagrania grupy zebrane na płycie "Fundament socjalizmu" (2009) gdzie znaleźć można 9 utworów, w tym tak znane wizytówki muzyczne DDT jak "Nuda", "Armia", "Fundament Socjalizmu (Pracownik)" czy "Lechia" doskonale znane każdemu kto ceni sobie stare dokonania krajowych kapel punk rockowych....
Nieco później zespół oddał w ręce zainteresowanych drugi krażek zatytułowany "Postawione na głowie" (2009) zawiarający kolejne 15 kompozycji...
Materiał z obu krążków nagrany został w studiu "Long Train" na przełomie 2008 i 2009 roku.
Płyty wydane zostały własnym staraniem zespołu w ograniczonym nakładzie, w postaci CD-R ze specjalnie przygotowanymi okładkami w postaci digipaka.




Wszyscy ci, którzy nie mieli okazji zaopatrzyć sie we wspomniane wydawnictwa mogą sięgnąć po najnowszy album DDT zatytułowany "lubisz to suko...", tym razem wytłoczony w postaci klasycznego CD, na którym znajdujemy najnowsze dokonania zespołu uzupełnione archiwalnymi bonusami.

Trzon nowej płyty stanowi 12 studyjnych utworów nagranych przez zespoł w 2012 roku.
Jako dodatek zamieszczono na krażku zarejestrowane przed laty amatorsko nagrania pochodzące z koncertu w gdańskim klubie "Akwen" (1983-84) oraz z demo-próby w gdańskiej "Budzie" (1980-87)... i choc nagrania archiwalne - jak zastrzega zespół - traktowac nalezy jedynie w kategoriach historyczno-kolekcjonerskich, to z pewnością dla wielu fanów punk rocka stanowic one będa istotny i ciekawy zapis z przeszłości zespołu.

Zamów ---> DDT - CD "Lubisz to suko"