Nowy album VESPY już dostępny...
2010-03-14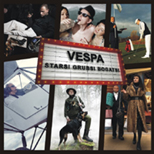 Nowy album szczecińskiej Vespy nosi tytuł ""Starsi grubsi bogatsi". Premiera krążka zapowiadana na 1 marca 2010 przesunęla się nieco z powodów technicznych ale płyta jest już dostępna.
Grupa po głośnym powrocie z wydawniczego niebytu w 2007 roku (płyta "Potwór") stała się ważnym elementem polskiej sceny alternatywnej. Muzycznie Vespa konsekwentnie pracuje nad swoim stylem - jamajskie rytmy ska i rocksteady podlewają swingowym sosem i okraszają mocno ironicznymi tekstami. Natomiast koncerty i wizerunek zespołu to krzywe i bezlitosne zwierciadło, w którym ujrzeć można odbicie szołbiznesu, mediów, w końcu samych słuchaczy.

Nowa płyta "Osy" to 12 piosenek o miłości, tańcu, seksie, alkoholu, pieniądzach, zdradzie, nienawiści i morderstwie. Wszystko, co chciałbyś usłyszeć, ale boisz się o to zapytać. "Starsi grubsi bogatsi" to album na wskroś popkulturowy - począwszy od telewizyjnego intro ("Czołówka" z gościnnym udziałem lektora Stanisława Heropolitańskiego), poprzez bałwochwalcze "Vespa pany", pościelowe "Powiem ci" i "Law mi forewer", jump-up-bluesowy hit "To tyle dziś kosztuje", rozretrowiony "Miś chce iść" aż do ciemnej strony opowieści o starszych, grubszych, bogatszych: agresywnego, skinhead reggae'owego "Zejdź mi z oczu", ukłonu dla mistrza horroru, Stephena Kinga, "Christine" i wreszcie "Pi bip" - mrocznego, swingowego studium zdrady z telefonią komórkową w roli głównej. A na deser szydercza "Tyłówka", dedykowana polskiemu rynkowi płytowemu, z łacińskim majstersztykiem w wykonaniu szczecińskiego rapera, Winiego.

Vespa sięga do rejonów muzycznych wcześniej przez nią nie penetrowanych: na płycie pojawiają się echa northern soulu, mrocznego rock'n'rolla a nawet bluesa. Wspólnym mianownikiem dla większości piosenek jest pierwszoplanowy głos Alicji, nowością są dwa utwory zaśpiewane przez Porka - trębacza Vespy. Gościnnie na płycie występuje puzonista Kultu i Buldoga, Jarosław Ważny. Tradycyjnie już zespół sięgnął po jamajskie klasyki, które zyskały polskie wersje językowe: "Get up Edina" Desmonda Dekkera i "Love me forever" The Mighty Vikings.

Towarzyszącą płycie książeczkę wypełniają fotosy z nigdy nie zrealizowanego filmu "Starsi grubsi bogatsi". Muzycy wcielają się w czarne charaktery: barona narkotykowego, perwersyjnego arystokratę, zepsutego miliardera, morderczą wdowę, cynicznego łotra i krwawego generała.

Wydawcą albumu jest prowadzona przez członków grupy oficyna Showbiz Monstaz Records.
Zamów płytę ---> VESPA - Starsi, grubsi, bogatsi