Nowy album The Slackers na winylu już w naszym sklepie...
2016-03-24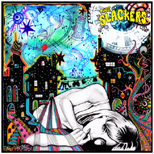 Najnowszy album amerykańskiej grupy The Slackers będącej jedną z najlepszych istniejących obecnie formacji ska/reggae doczekał się swojego europejskiego wydania. Płyta o tytule "The Slackers" w Europie ujrzała światło dzienne za sprawą włoskiej wytworni Brainlab Groove Records. Ta sama wytwórnia nieco wcześniej wydała pierwszy krążek The Slackers zatytułowany "Better Late Than Never" z roku 1996. Jego pierwsze winylowe wydanie pojawiło się w roku 2002 za sprawą amerykańskiej wytwórni Special Potato, a wydanie z Brainlab Groove Records jest trzecią winylową edycją tej płyty i pierwszą dwupłytową (wydana na dwóch płytach winylowych).

Jeszcze jednym wydawnictwm włoskiego wydawcy, które powinno zainteresować fanów ska z najwyższej półki jest płyta zespołu The Uppertones o tytule "Closer To The Bone".... The Uppertones to trio, w skład którego wchodzi m.in. doskonale znany w świecie ska puzonista Mr. T-Bone znany zarówno z płyt solowych jak i współpracy z niezliczoną ilością wykonawców stanowiących światową czołówkę sceny ska i reggae takich jak Derrick Morgan, Willie Williams, Mikey Dread, New York Ska Jazz Ensemble, David Hillyard and the Rocksteady 7, Victor Rice, The Slackers, Tokyo Ska Paradise Orchestra, The Toasters, The Trojans, The Caroloregians, Dr. Ring Ding, Eastern Standard Time, Casino Royale, The Bluebeaters, Africa Unite i wielu innych.

Wszystkie wspomniane wyżej albumy dostępne są już w naszym sklepie (niektóre w krótkich seriach), a uzupełniają je wydane również przez BGR winylowe EP-ki The Slackers oraz Dave Hillyard Rocksteady 7.