Nowy album THE BRIEFS.
2005-10-16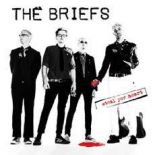 Ostatni album amerykańskiej formacji punk 77 THE BRIEFS "Sex Objects" okazał się sporym sukcesem zespołu. Płyta dokonale sprzedawała się nie tylko w punkowych dystrybucjach ale i sieci sklepów muzycznych, a The Briefs większość czasu spędzali na trasach koncertowych prezentując swój stylowy, dynamiczny repertuar.

Popularność tej płyty wkrótce będzie miał okazję zdystansować kolejny krążek zespołu. Czwarty album grupy o tytule "Steel Yer Heart" pojawi się na rynku 18 listopada i wkrótce po tym będzie dostępny w Europie, podobnie jak poprzedni zostanie wydany przez zasłużoną dla punk rocka, amerykańską wytwórnię BYO Records.

Po premierze i serii koncertów w Stanach, w lutym 2006 roku The Briefs wystartują ze swoim kolejnym tournee koncertowym po Europie.
Więcej na stronie ---> THE BRIEFS.
Patrz też ---> BYO RECORDS.