Nowy album THE ANALOGS w sklepach 30 października.
2006-10-13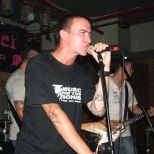 Znana juz jest data premiery nowego albumu THE ANALOGS pt. "Poza prawem", który pojawi się w sklepach i dystrybucjach 30 października 2006. Wcześniej zespół rozpoczyna serię koncertów w całej Polsce, na których będzie mozna nabyć krązek. Wszystkim tym, którzy nie będą mieli okazji zobaczyć zespołu na zywo juz dzisiaj dajemy mozliwośc przedpremierowego zakupu płyty, która rozsyłana będzie przed oficjalną premierą w sklepach... Od dzisiaj takze 2 nowe utwory z zapowiadanej płyty prezentowane są w autopilocie internetowego radia ULICZNIK.net będącego rozgłośnią Jimmy Jazz Records.
W dziale DOWNLOAD udostępniamy w formacie MP3 jeden z singli promujących album, utwór "Pieśń Aniołów", którego inna wersja znana juz jest ze składanki "Prowadź mnie ulico vol.3". W sklepie przy trackliście płyty do ściągnięcia takze 30-sekundowe sample kilku utworów.
Nowy album THE ANALOGS zamawiać mozna za pośrednictwem naszego sklepu. Jeśli ktoś zainteresowany jest jednoczesnym zakupem kilku płyt - w tym albumu "Poza prawem" - jego zamówienie wysłane zostanie w momencie kiedy premierowy krązek będzie juz dostępny.

SKLEP ---> THE ANALOGS "Poza prawem"
THE ANALOGS "Poza prawem"
Zawiązani w 1995 roku THE ANALOGS to najlepsza, najbardziej aktywna i najbardziej znana w kraju i za granicą formacja od początku hołdująca staremu, ulicznemu punk rockowi. W ciągu 11 lat istnienia zespół, mimo zmian składu, okrzepł muzycznie, a jego popularność zatacza coraz szersze kręgi. 8 wydanych dotychczas albumów za każdym razem potwierdzało klasę grupy, której występy nieprzerwanie ściągają do klubów rzesze wiernych fanów. Niemal nieobecni w krajowych rozgłośniach radiowych i telewizji, doskonale znani są publiczności undergroundowej w Polsce, a także w Niemczech, Włoszech, Austrii, Szwajcarii, Czechach i innych krajach, gdzie często koncertują.Nowy album THE ANALOGS pt. "Poza prawem" to kolejna porcja ulicznych przebojów w stylu znanym z poprzednich albumów. Wiele z utworów już dzisiaj jest koncertowymi hitami, a wiele z nich stanie się nimi wkrótce bowiem jeszcze przed oficjalną premierą handlową nowego albumu grupa rozpoczyna serię ponad 30 koncertów, z których większość odbędzie się w kraju, jednak w grudniu zespół odwiedzi także Niemcy, Szwajcarię, Włochy i Czechy.
"Poza prawem" to 14 nowych, energetycznych utworów (zarejestrowanych w studio wytwórni Jimmy Jazz), które w połączeniu z uliczna poetyką tekstów grupy, nie pozbawioną mocnych sformułowań, po raz kolejny rozpalą wyobraźnię i serca słuchaczy. Tradycyjnie także na tym albumie zespół sięgnął po klasykę punk rocka nagrywając z polskim tekstem utwór "Right To Work" – jeden ze sztandarowych hitów angielskiej formacji Chelsea. W kilku fragmentach płyty gościnnie wystąpili: wokalistka żeńskiej, punkowej formacji Beri Beri – Marta Wiśniewska oraz gitarzysta melodic punkowej grupy Road Trip's Over Maciej Kiersznicki.
Album promowany będzie singlami z utworami "Pieśń Aniołów", "Poza prawem" i "P.S.M." oraz teledyskami do utworów "Pieśń Aniołów" i "Zjednoczeni".
Płyta wydana będzie w formacie digi-pack.