Nowy album THE ADICTS!
2009-11-12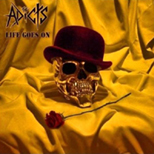 THE ADICTS to klasycy punk rocka cieszący się sporym uznaniem, ich koncerty to wielkie show, a nowy album to jedno z najbardziej oczekiwanych wydawnictw ostatnich miesięcy. Wydanie płyty w pierwotnym terminie – kilka miesięcy temu – wstrzymały problemy wydawcy - niemieckiej firmy People Like You Records – z dystrybucja.
Dzisiaj o problemach już można zapomnieć, a płyta rozpala wyobraźnię fanów. Premiera albumu "Life Goes On" będzie miała miejsce 16 listopada, a przygotowana została przez wydawcę w trzech wersjach: klasycznego CD, winylowej wersji limitowanej na kolorowym winylu oraz w wersji digipak z dodanym krążkiem DVD.
W dniu premiery płyta we wszystkich formatach dostępna będzie w naszym sklepie, ale już dzisiaj można ją zamawiać w postaci klasycznej (CD) i na winylu (LP). Wszystkie złożone w naszym sklepie zamówienia zawierające nowy album The Adicts wysłane zostaną w dniu premiery płyty.... jeśli jest ktoś kto ma wątpliwości w jakiej formie jest kapela polecamy odsłuchanie kilku sampli na kartach produktu w naszym sklepie, ew wizytę na profilu Myspace ---> The Adicts.
Zamów CD ---> THE ADICTS – Life Goes On
Zamów LP ---> THE ADICTS – Life Goes On

Zamów poprzez ---> Allegro