Nowy album KOMET w naszym sklepie..
2014-03-13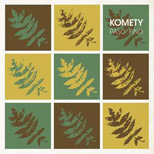 Komety, jeden z najważniejszych polskich zespołów alternatywnych XXI wieku, wracają z nową płytą. "Paso Fino" wydaje się być najbardziej dojrzałym, przemyślanym a jednocześnie melodyjnym (żeby nie powiedzieć przebojowym) albumem w historii zespołu. Warszawskie trio wspomaga wielu zaproszonych do nagrań muzyków sesyjnych. Na płycie słyszymy więc między innymi i sekcję dętą i kwartet smyczkowy.

"Lesław zawsze, zarówno w Partii, jak i w Kometach, konsekwentnie podążał własną drogą, nigdy nie szedł na żadne ustępstwa, to artysta niebywale świadomy tego, co chce robić i wierny swoim wyborom, mówiąc krótko: ktoś kto nigdy nie zdradza sam siebie. "Paso Fino" olśniewa jeśli chodzi o brzmienie, ja sam - mimo iż wydawało mi się że ten zespół znam na wylot i niczym mnie nie zaskoczy - jestem zaskoczony i zachwycony prawdziwym skarbcem dźwięków, których się nawet tu nie spodziewałem znaleźć. A teksty, cóż, chyba nie jest żadnym zaskoczeniem, że wciąż są na najwyższym poziomie, mało kto umie tak opowiadać o samotności, związkach, spotkaniach i rozstaniach, a więc tematach uniwersalnych, z tym, że Lesław nigdy nie otarł się nawet o banał, każdy tekst jest osobną oryginalną opowieścią. Mam nawet swoją prywatną zabawę związaną z Kometami: słuchając ich piosenek wyobrażam sobie ich bohaterki, ich włosy, twarz, figurę i dopisuję do tego ich życiorysy.
Komety to ewenement w polskiej muzyce, dopóki istnieją Komety ciągle jest nadzieja, że ktoś opowie nam o naszym życiu lepiej niż sami byśmy potrafili to zrobić." (Krzysztof Varga)

Album "Paso Fino" dostępny jest w naszym sklepie w wersji CD i LP.

Zamów ---> KOMETY "Paso Fino"