Nowy album DISCIPLINE "Downfall Of The Working Man".
2005-06-17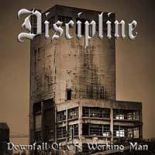 Holenderscy streetcore'owcy z DISCIPLINE prezentują się na swoim szóstym albumie "Downfall Of The Working Man". Płyta podobnie jak ostatnie krązki zespołu wydana została przez belgijską wytwórnię I SCREAM RECORDS i przynosi doskonała porcję, melodyjnego streetcore. Pośród własnych kompozycji grupy znajdujemy tu także cover. Zespół sięgnął do repertuaru kultowych glam rockowców ze SLADE zamieszczając na płycie swoją wersję ich utworu "When I'm Dancing I Ain't Fighting".
Promocja płyty wsparta będzie serią koncertów grupy, a dla fanów klasycznych albumów firma Rebellion Records przygotowała LP na kolorowym winylu wzbogacając wydawnictwo kolorowym plakatem.