Nowy PASAŻER pod koniec listopada!!!
2007-11-06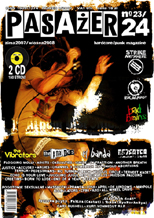 Na koniec listopada zapowiadany jest nowy numer PASAŻERA - największego polskiego fanzina 100% hard core/punk! tym razem do odbiorców trafi numer podwójny (# 23/24) o objetosci 160 stron A4 z dołaczonymi dwoma płytami CD. Gazeta będzie tez miała nieco wyższą cene - 18 zł.
Poniżej prezentujemy notkę wudawcy na temat zawartości nowego numeru, który wkrótce dostępny będzie w naszym sklepie....
PASAŻER #23/24
Po dłuższej nieobecności witamy w kolejnym numerze. Obszerniejszym i mamy nadzieję ciekawszym niż kiedykolwiek wcześniej. W związku z pewnym opóźnieniem i zwiększoną objętością jest to numer podwójny.
Wewnątrz znajdziecie to z czego "Pasażer" jest znany czyli różne oblicza muzyki i sceny hc/punk.
Szczególnie polecamy wywiady z gwiazdami amerykańskiej sceny: STRIKE ANYWHERE i RISE AGAINST, folk-punkowym FLOGGING MOLLY oraz największymi irokezami Ameryki z CASUALTIES. Honor undergroundowej sceny DIY bronią zaś: ARGIES, JUGGLING JUGULARS, PEDESTRAINS, oraz - po raz pierwszy na naszych łamach - znakomitość paryskich skłotów LA FRACTION.
W nowym numerze mnóstwo hard core'a w postaci wywiadów z IGNITE, ANOTHER BREATH, JUSTICE, TERROR, NO TURNING BACK, COMEBACK KID. Sporo street punka i rock'n'rolla: BORN TO LOSE, HUDSON FALCONS, CREETINS, KEVIN K., jak również kapel z bardziej intelektualnym "zacięciem" z pogranicza emo: ECHO IS YOUR LOVE, END OF A YEAR, jak i eksperymentalnego metalu: HORSE THE BAND.
No i to co niektórzy z was lubią najbardziej, czyli legendy punk rocka. A wśród nich przede wszystkim druga część mega-story o BAD BRAINS, kalifornijski CHANNEL 3, klasycy splattercore'a: ACCUSED, kanadyjscy skandaliści: DAYGLO ABORTIONS, historia HEIMATLOS, australijczycy z VICIOUS CIRCLE, najwięksi miłośnicy perwersji wśród fińskich dis-punków: TERVEET KADET, historia anarcho-punkowego FLUX OF PINK INDIANS, oraz - ostatnie ale nie najmniej ważne - legendy brytyjskiego punka 77/82: wywiady z Knoxem z VIBRATORS, Monkey'em z ADICTS oraz Charlie Harperem z UK SUBS.
Polski punk rock w tym numerze "Pasażera" to nie uznający standardów rokendrola DEZERTER, wywiad rzeka ze streetrockersami z ANALOGS z mnóstwem ciekawostek o tym zespole; powracająca po pięciu latach z dwoma płytami na raz PRAWDA, epitafium dla EL BANDY i APRILA, rosnące w siłę i popularność DE ŁINDOWS, sanitariuszki punk rocka z POGOTOWIA SEKSUALNEGO, retro punk LD50, kalifornijskie dzieciaki z CF98 i MAYPOLE, najlepszy w Polsce punk 77: BULBULATORS, hard core'owa nadzieja ALL WHEEL DRIVE, weterani noise-punka: IŁ-62, rokendrolowe AFROPORNO, oraz electro-punkowe MASSKOTKI, które zrelacjonują swoje przygody z trasy po Ukrainie. O swoich życiowych płytach opowiedzą Tomek z EYE FOR AN EYE i Fakir z CASTETA.
Poza tym wywiad z organizatorami słynnego koncertu "Gier-Tych Dość", rozmowa z GARRYM BUSHELLEM, pożegnanie KURTA VONNEGUTA i felietony m.in. o tym dlaczego boga nie ma i dlaczego teksty i postawa mają w punk rocku znaczenie kluczowe.
Do tego numeru dołączone są dwie płyty CD, w tym na pierwszej znajdziecie w większości zespoły o których możecie przeczytać wewnątrz numeru. Polecamy!!