Nowy Label w naszej ofercie...
2009-03-03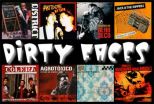 Po okresie przygotowań i dodawania nowych pozycji do sklepu, możemy wreszcie donieść Wam, że w naszej ofercie na stałe zagościły pozycje z niemieckiej wytwórni DIRTY FACES, która jest kolejnym labelem, z którym podjęliśmy stałą współpracę.
Od chwili obecnej wydawnictwa Dirty Faces znajdować się będą w ciągłej ofercie naszego sklepu (oczywiście z krótkimi przerwami na uzupełnianie stanów)...
Katalog naszego nowego partnera zainteresować powinien zwłaszcza zwolenników egzotycznego punk rocka choć nie tylko, bo poza kojarzonymi, aczkolwiek odległymi nam geograficznie, kapelami w stylu AGROTOXICO, FLICTS, PERIFERIA A.D., COLERA czy OLHO SECO pochodzącymi z Ameryki Południowej znajdujemy w katalogu DF także szwedzkich DISCONVENIENCE, szwajcarskich JACK & THE RIPPERS, holenderskich ANTIDOTE, amerykańskich NEW YORK REL-X czy całą masę grup niemieckich. Pośród nich znajdujemy m.in. DISTRICT i REVOLVERS we wczesnych nagraniach, a także - co zapewne bardziej zainteresuje fanów ska - wczesne albumy ALPHA BOY SCHOOL oraz bardziej współczesne nagrania THE LOADED czy BABYLON WHACKERS...
To zreszta nie wszytsko co oferuje nasz sklep jeśli chodzi o oferte DIRTY FACES...
Już obecnie większość nowych tytułów znajdziecie w sklepie, a w najbliższych dniach każdy z nich uzupełniony zostanie o tracklisty i sample do odsłuchania...
Wiele tytułów oferujemy zarówno na CD jak i w postaci wydań winylowych...
Zapraszamy do sklepu ---> SKLEP