Nowy CD KARCERU juz dostępny!!!!!!!
2011-03-13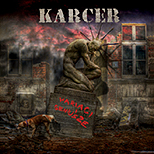 Choć oficjalna premiera handlowa nowej płyty KARCERU będzie miała miejsce 19 marca to już dzisiaj w naszym sklepie można zamówić krążek słupskich weteranów punk rocka. Album z pewnością nie zawiedzie fanów grupy. Poniżej zamieszczamy notkę o płycie i zapraszamy do zamawiania. Na karcie produktu do odsłuchania killka sampli z płyty, a tutułowy utwór dostepny jest na naszym profilu Myspace.

KARCER - Wariaci i geniusze CD (Jimmy Jazz Records / Nr CD Jazz 143)
Karcer to jedna z istniejących bez przerwy, legendarnych formacji polskiej sceny punk lat osiemdziesiątych. Zespół niezbyt często ale konsekwentnie wydaje kolejne albumy przekonując fanów, że ciągle jest w doskonałej formie, a nagrania dozowane z odpowiednią regularnością nabierają właściwego smaku.

Wydany w 2007 roku, doskonale przyjęty album "Anarchiwa" przenosił nas w przeszłość przypominając stare hity nagrane ponownie dla przypomnienia 25 letniej aktywności grupy. Na nowym albumie zatytułowanym "Wariaci i geniusze" Karcer ujawnia 14 premierowych kompozycji udowadniając, że nadszedł czas aby i one dołączyły do kanonu największych przebojów zespołu.

Krążek "Wariaci i geniusze" odsłania nieco cięższe niż dotychczas brzmienie Karceru ale mimo mocnego brzmienia płyta z zadziwiającą łatwością uzależnia od siebie słuchacza za sprawą melodyjności i przebojowości kompozycji co od zawsze stanowi wizytówkę kapeli.
Doskonałe brzmienie wsparte słyszalną dbałością o detale, mocne chórki, przenikające solówki, refleksyjne teksty i odrobina luzu to zalety nowej płyty jednaj z ciągle żywych legend punk rocka.

Praca nad albumem trwała ponad 2 lata i jak mówią sami muzycy "to 14 utworów, w których odbija się echo ostatnich lat i teraźniejszości. Mówi o nas i o innych. Makabra i dekadencka zabawa, to co w głowach i na ulicach. Nie chodziło  tylko o wykrzyczenie z siebie tego wszystkiego, ale dostarczenie jakichś emocji przy słuchaniu albumu. Można iść drogą powtórek i sprawdzonych formuł. My też mamy swoich ulubieńców z przeszłości, których płyty są zawsze identyczne. Z drugiej strony ciekawią nas również kolejne formy. Praca nad albumem zaczęła się w 2008 roku i trwała do jesieni 2010. Powstał niezależnie, bo wszystko robiliśmy sami, zaczynając w podziemiach pewnego przedszkola, przez wsie i domy  kultury, kończąc w pokoju w bloku.".... Zatem teraz pora na to aby płyta dotarła jeszcze dalej... Z pewnością fanów grupy nie trzeba będzie do tego zachęcać...
Równolegle z premierą płyty w sklepie pojawiły się koszulki Karceru z nowym motywem. Lada chwila do oferty dołącza nowe wzory znaczków.
Zapraszamy do sklepu:
----> CD KARCER - Wariaci i geniusze
----> T-Shirt KARCER