Nowości z People Like You.
2007-05-27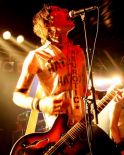 Najnowsze tytuły wydane w ostatnim czasie przez niemiecką wytwórnię People Like You zostały już dodane do naszej oferty. Zainteresowanych odsyłamy do sklepu gdzie można już zamawiać premierowe krążki FRONTKICK, DEEP EYNDE i BORN TO LOSE, a także poprzednie nowości, które zostały uzupełnione przy okazji najnowszych premier.

Zwolennikom Psycho i rockabilly przypominamy o najnowszym - rewelacyjnym - krażku królów psychobilly, THE METEORS "Hymns For The Hellbound", po który często sięgają odwiedzający nasz sklep w ostatnim czasie, a także o utrzymanym w bardziej klasycznej konwencji Rockabilly albumie CHIP HANNA & The BERLIN THREE, na którym spotykaja się muzycy znani z formacji U.S. BOMBS i MAD SIN.
Nowości PLY to tym razem z jednej strony gratka dla zwolenników bardzej mrocznych odmian punk rocka ocierającego się o gotyckie wpływy. Właśnie taki rodzaj grania serwuje formacja DEEP EYNDE na swoim nowycm albumie "Bad Blood", nie stroniąc jednak od melodii i doskonale udowadniając, że wycieczki w okolice piekła można odbywać przy dźwiękach dość tradycyjnego i przebojowwego punk rocka ...
BORN TO LOSE przypominają się drugim albumem dla PLY o tytule "Old Scars", a hiszpańsko-niemiecka grupa FRONTKICK debiutuje w katalogu niemieckiej wytwórni krążkiem "The Cause Of The Rebel". To już trzecia płyta w ich dorobku i zespół zapwene znany jest doskonale zwolennikom melodyjnego punk rocka.
Zapraszamy do zakupów.