Nowości z BRONCO BULLFROG i nie tylko...
2005-03-20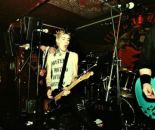 Hiszpańska oficyna BRONCO BULLFROG nadal reklamuje nowe albumy FRONTKICK "Underground Stories" i SOCIAL COMBAT "Rock'n'Roll Rebels" (dostępne wsprzedazy wysyłkowej Jimmy Jazz Records - patrz dział SKLEP).
Teledysk do utworu "36 Guns" z nowego albumu FRONTKICK mozna w zobaczyć odwiedzając stronę internetową zespołu www.frontkick.de.
Frontkick przygotowują split singla ze Szwedami z Voice Of A Generation, a Social Combat pojawią się obok innych kapel na przygotowywanej przez amerykańską wytwórnię Workers United płycie "The Good, The Bad & The 4-Skins ... Tribute" poświęconej oczywiście pamięci 4-SKINS.
Przy okazji coverów klasycznych kapel warto wspomnieć o przygotowaniach do tribute–albumu poświęconemu kanadyjskim FORGOTTEN REBELS. Zespół niezmiennie prowadzi Mickey "DeSadist" Gerlecki mający polskie korzenie.