Nowości płytowe z Epitaph i Burning Heart...
2005-09-25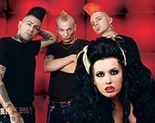 Firma Epitaph wypuściła w ostatnim czasie sporą porcję nowych wydawnictw i chociaż coraz częściej w repertuarze tej wytwórni dochodzi do sporych odchyleń stylistycznych (hip-hop, noise, pop) niezbyt kojarzących się z jej sztandarowym, znanym od lat profilem to nadal wsród kolejnych premier znajdujemy sporo ciekawych płyty utrzymanych w stylistyce punk, ska i psycho. Ostatnie pozycje to m.in:
- ORANGE "Welcome To The World Of Orange" - debiutancki album małoletnich żurnal-punków rekomendowanych przez samego Larsa Frederiksena z RANCID, który zaproponował grupie kontrakt z wytwórnią Hellcat Records. Album przynosi porcję melodyjnego pop-punka, który mimo zachwytów wydawcy i przyzwoitego poziomu wydaje się jednak byc zaledwie słabszą kopią Green Day.
- HORRORPOPS "Bring It On!" - 13 nowych kompozycji utrzymanych w stylistyce pierwszej płyty. Rock'n'rollowe granie, na przyzwoitym poziomie w wykonaniu wokalistki i kontrabasistki Patricii Day wspieranej przez muzyków psychobilly'owej formacji Nekromantix.
Szwedzka firma BURNING HEART RECORDS, będąca de facto europejskim oddziałem EPITAPH, poza wspomnianymi wyżej tytułami juz w październiku wzbogaci swój katalog m.in. o nowe albumy:
- RANDY - "Randy The Band" - 15 energetycznych kawałków z pogranicza punka i powr-pop, które zadowola każdego fana bardzo melodyjnego grania.
- THE ACCIDENTS "Poison Chalice" - 12 kompozycji osadzonych w bardzo rock'n'rollowym klimacie tworzonym m.in przez byłych muzyków grup Voice Of A Generation i Genocide Superstars.
Pozostałe, najbliższe premiery to płyty HELL IS FOR HEROES "Transmit Disrupt", CLUB KILLERS "Two Nights With Club Killers" i nowy krążek MILLENCOLLIN "Shut You Out".
Więcej o wydawnictwach Epitaph i Burning Heart na stronach wytwórni:
---> Epitaph
---> Burning Heart