Nowości i zapowiedzi CAPTAIN Oi! Records.
2005-10-18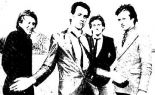 Jedna z najbardziej cenionych na świecie punkowych wytwórni Captain Oi! Records zdaje się już mieć sprecyzowane plany wydawnicze przynajmniej do połowy 2006 roku. W chwili obecnej firma ta wypuściła kolejne albumy, pośród których znajdujemy pierwszy nagrany dla Captain Oi! album CRASHED OUT "Pearls Before Swine", na którym grupę wspiera Olga z Toy Dolls, zbiór starych nagrań THE RUTS na krążku "Grin n Bear It" zawierającym specjalne nagrania singlowe plus drugi album zespołu wydany pierwotnie przez wytwórnię Virgin, debiutancki album THE SKIDS "Scared To Dance" wydany pierwotnie przez Virgin w 1979 roku i wreszcie krążek "The Best Of" THE PROFESSIONALS - kapeli, w której po rozpadzie Sex Pistols zakotwiczyli Steve Jones i Paul Cook. "The Best Of" zawiera nagrania z dwóch albumów Professionals oraz nagrania singlowe.
KOolejne wydawnictwa Captain Oi! już w przygotowaniu. Jeszcze w październiku powinien ujrzeć swiatło dzienne nowy studyjny album CHELSEA "Faster, Cheapter & Better Looking", a wkrótce potem kolekcja "Punk Singles Collection" MENACE z nagraniami z A i B stron singli zespołu, z pierwszego okresu działalności.
PO raz pierwszy od czasu wydania debiutanckiego albumu na poczatku lat 80-tych w formacie CD pojawią sie nagrania legendarnej londńskiej kapeli DEAD MAN'S SHADOW "The 4P'S", a w następnej kolejności kolejna "bestka" - tym razem INFA RIOT - i "Complete Punk Singles Collection" THE EXPLOITED.
W ramach wznawiania starych płyt Captain Oi! siegnie też po wydany pierwotnie w 1982 roku debiutancki album CHRON GEN "Chronic Generation" do którego w wersji CD dołożonych zostanie 12 bonusów.
Pośród premierowych pozycji zapowiadane są nowe krążki ANTI NOWHERE LEAGUE "Kings & Queens", a nieco później nowe płyty ARGY BARGY i ANGELIC UPSTARTS...
Zanim to nastąpi do sklepów trafią także:
- THE MEMBERS "At The Chelsea Night Club"
- THE MEMBERS "1980 The Choice Is Yours"
- PENETRATION "Moving Targets"
- THE RUTS "Complete Singles Collection"
- COCK SPARRER "The Decca Years"
- THE MOTORS "The Motors"
- THE MOTORS "Approved By"
- THE MOTORS "Tenement Steps"
- THE DESTRUCTORS "Punk Singles Collection"
- THE DESTRUCTORS "Cry HAvoc & Unleash the Dogs Of War"

JEst zatem w czym wybierać i nie pozostaje nic innego jak czujnie śledzić daty kolejnych premier z Captain Oi! Records.