Nowe wzory koszulek w naszej ofercie...
2011-05-30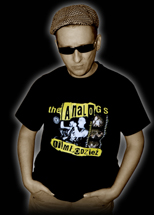 Pora roku wymusza na nas niezmiennie konieczność dostosowania się do waszych oczekiwań, które w okresie wiosenno-letnim najczęściej dotyczą nowych ciuchów w naszej ofercie. Staramy się być na bieżąco, zatem co jakiś czas proponujemy nowe wzory koszulek do waszej dyspozycji. Po serii t-shirtów związanych z naszymi najnowszymi wydawnictwami (sprawdź koszulki: Komety, 740 Milionów Oddechów, Karcer, Anti Dread...) proponujemy wam teraz nawiązanie do jednego ze starszych wydawnictw Jimmy Jazz. Od dzisiaj w naszym sklepie dostępna jest koszulka THE ANALOGS z motywem znanym z okładki winylowej wersji albumu "Oi Młodzież".
Poza koszulkami "muzycznymi" fani ska mają do dyspozycji nowy wzór z motywem "Rudeboy Poland", a zwolennicy jamajskich rytmów z całkowicie nowym wzorem "One Love - Jamaica"...
To oczywiście nie wszystko co znajdziecie w naszym sklepie bo oferujemy wiele innych koszulek z wzorami nawiązującymi do tego z czego znacie nas najlepiej... a także koszulki polo i bluzy, które nawet latem mogą okazać się przydatne.
W oczekiwaniu na kolejne wzory, które pojawią się wkrótce zapraszamy na zakupy do naszego sklepu...

Wybierz ---> KOSZULKĘ dla siebie...