Nowe wzory koszulek dla dzieci i dorosłych...
2016-06-01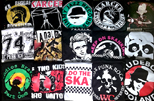 Jak wiadomo wszystkie dzieci są nasze i choć nie mamy dla nich niczego w stylu 500+ to jednak coś mamy. Tym razem są to koszulki.... Wakacje tuż tuż zatem specjalnie na letnie dni przygotowaliśmy po raz pierwszy kolekcję koszulek dla dzieciaków.
Na początek kilka zwariowanych wzorów oraz t-shirty muzyczne dla młodych fanów Indios Bravos, Karceru czy muzyki Ska.... Satysfakcja gwarantowana - Koszulki testowane na naszych dzieciakach oraz dzieciakach naszych znajomy. Egzamin zdany!
Aby dorośli nie byli poszkodowani dostępne są również nowe i stare wzory dla nich... Pośród nowych projektów m.in. coś miłego dla fanów 747, Karceru, Bastard'a, Rewizji. Nie zawiodą się również fani ska, a ponadto proponujemy nowy wzór koszulki z logo Jimmy Jazz Records.
Kolejne ciuchy dla dorosłych i maluchów już wkrótce....
Sprawdź ---> Nowe koszulki