Nowe tytuły w naszym sklepie.
2006-06-28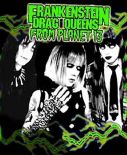 W naszym sklepie pojawiło sie ostatnio sporo nowych pozycji mogących zainteresować zarówno fanów polskiego jak i zagranicznego punk rocka. Nowe pozycje z firmy PASAŻER to CD's z debiutanckim materiałem śląskiej formacji CASTET "Kings Of Punk", kolejny album DE ŁINDOWS "100 mil na sekundę" i krążek posiadającego polskie korzenie KEVINA K. pt. "Polish Blood".

Ponadto do naszej oferty trafił ostatnie pozycje z niemieckiej wytwórni People Like You, a pośród nich m.in. nowe albumy ANGEL CITY OUTCASTS "Deadrose Junction", U.S. BOMBS "We Are The Problem", THE BONES "Partners In Crime vol.1", ADAM WEST "Longshot Songs For Broke Players 2001-2004" oraz singiel kompaktowy londyńskiej formacji DEADLINE "Hanging On The Telephone", którego tytułowy utwór to cover jednego z najpopularniejszych, starych przebojów Blondie.
Wśród tytułów z People Like You także albumy CHARLEY HORSE "Unholy Roller", BORN TO LOSE "Sweet Misery", kolejna część składanki z wykonawcami reprezentującymi wytwórnię "Where The Bad Boys Rock vol.3" w specjalnej cenie.

Super gratką dla fanów horrorpunka i bardziej demonicznych klimatów powinien być "Little Box Of Horror" - okazjonalny box z 5 albumami FRANKENSTEIN DRAG QUEENS FROM PLANET 13, wzbogacony książeczką i specjalnymi gadżetami przygotowanymi przez wydawcę....
Więcej informacji o poszczególnych tytułach w naszym ---> SKLEPIE oraz w dziale z recenzjami. Zapraszamy do zakupów.