Nowe tytuły w katalogu CAPTAIN Oi! RECORDS
2005-03-20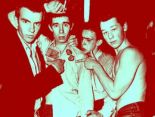 Pośród ostatnich premier Captain Oi! Records znajdujemy 4 kultowe albumy SHAM 69 "Tell Us The Truth", "That's Life", "Hersham Boys" i "The Game" zawiarające poza materiałem znanym z pierwotnych wydań takze wiele nagrań bonusowych. Wszytskie tytuły wydane zostały w wersji digi-pack i dodatkowo wyposazone w ksiązeczkę z reprodukcjami oryginalnych okładek LP's.
Równolegle z reedycjami Sham 69 wytwórnia wypuściła nowe albumy RED ALERT "Exscess All Areas" i LAST RESORT "Resurrection" choć w drugim przypadku cięzko mówić o całkowitej premierze bo album zawiera wiele nagrań znanych wcześniej ze składanek i albumów "A Tribute to...".
Captain Oi! zapowiada wkrótce kolejne doakonałe tytuły z klasyką punka jednocześnie dbając o to aby do fanów docierały nowe produkcje legendarnych formacj. Wkrótce światło dzienne ujrzą płyty GOLDBLADE "Rebel Songs", GUITAR GANGSTERS "Let'em Have it", THE BLOOD "False Gestures For A Devious Public", THE VIOLATORS "The No Future Years", THE STRAPS "The Punk Collection", a w późniejszym terminie wznowienia w wersji digi-pack pierwszego albumu THE PARTISANS, ANTI-PASTI "The Last Call", dwóch albumów THE EXPLOITED - "Deatb Before Dishonour" i "The Massacre" - oraz nowy album CHELSEA "Younger, Faster And Better Looking". Do nagrania nowych albumów przymierzają się takze ANGELIC UPSTARTS, ARGY BARGY i CRASHED OUT.